It's no secret that Shih Tzu dogs are popular for their loving personalities. However, unlike the common misconception, female Shih Tzu breeds are more independent and strong-willed than their male counterparts.
To celebrate their willful nature, here are some chic female Shih Tzu names perfect for your sassy furball.
Hello, everyone. Welcome back. If you're new here, welcome to Shih Tzu Care Guide, the ultimate beginner's guide to first time Shih Tzu owners.
Adorable female Shih Tzu names for first-time owners
Female Shih Tzu names for Disney fans
1. Darling
Commonly used as a term of endearment, the name Darling could emphasize how much you treasure the company of your little buddy. This adorable Shih Tzu name gives a representation of their highly charged characteristics and matches their loving presence.
2. Juliet
Have you seen Gnomeo and Juliet? Aside from being a common name often referenced to the famous tragedy piece written by William Shakespeare, Juliet is a name that signifies free-spirited distinctiveness, which is quite usual in a female Shih Tzu. 
Moreover, it's fascinating to know that the name Juliet has a French-English origin which means youthful or sky-father.
3. Princess
No matter how cheesy you think it is, you have to admit that Princess is one of the Shih Tzu names often used by pet owners. What other name can represent your dog's sassiness and willfulness than addressing them in an equally commanding royal title?
4. Mrs. Pots
One of the best Beauty and the Beast films in my opinion is the one that stars Emma Watson. That yellow dress looked stunning on her. Aside from Bella, one of my favorite characters is Mrs. Pots.
For a soon-to-be Shih Tzu mom, Mrs. Pots can be the perfect name for your pet.
5. Minnie
The Disney family will never be complete without Minnie Mouse. Not only is Minnie one of the cutest female Shih Tzu names, but it's also perfect for such a small breed of dog like Shih Tzu.
Female Shih Tzu names from Netflix series shows
1. Victoria
Another name that exudes utmost elegance is Victoria. Although a bit lengthy, this name evokes confidence and independence that could highlight a female Shih Tzu's charm. Plus, if you're a fan of Victoria Beckham because she's the embodiment of chic looks and style in the fashion world!
However, if you're familiar with the drama series Revenge, I'm sure you remember that Madeleine Stowe played the iconic villain, Victoria Grayson.
2. Thirteen
Shoutout to Stranger Things fans out there. The Duffer Brothers did an incredible job in this series. I know a lot of viewers may not be familiar with the '80s these days, but Stranger Things is such a reminiscent blast of the past.
If you're looking for other strong female characters as Shih Tzu names, you can try Max, Nancy, Robin, and Joyce.
Who's your favorite Stranger Things character? What are you looking forward to in the new series? Let us know in the comments.
3. Chloe
Ah, our favorite detective from the Netflix series Lucifer, Chloe Decker. If you're looking for badass female Shih Tzu names, Chloe is the one.
4. Kim
Another badass character from the Netflix series is Kim Wexler from Better Call Saul. I've been a fan of this show ever since it started. And I'm glad Bob Odenkirk confirmed that they've started shooting this March for Season 6 (Final Season).
Kim is Saul Goodman's loving wife. They are an odd couple, but incredibly good lawyers.
5. Jessica
I was super heartbroken when Krysten Ritter's character as Jane in Breaking Bad died. But, I didn't realize that her role in Marvel's Jessica Jones is far better. Therefore, if you like the irony of having a strong female Shih Tzu name for such a cute dog, the name Jessica is perfect.
6. Peggy
Mad Men is not a Netflix original series, but this is one of the reasons why I renewed my subscription. Mad Men is a classic TV series show that revolves around the world of advertising in the '60s and '70s. It's hard not to love the show. Of course, there's Peggy. Peggy started as Don Draper's secretary and worked her way up to the corporate ladder as a promising copywriter.
Other sweet and charming female Shih Tzu names
1. Fifi
Giving your pet repeated two-syllable names is the easiest idea to come up with. However, it's also wise to go for a bit of uniqueness by selecting uncommon syllable combinations like Fifi. This charming name flows naturally out of the mouth and could easily be remembered by your dog.
It also lives up to Shih Tzu's strikingly cheerful personality. 
2. Chanel
Choosing a fashion brand as a pet's name isn't a new trend, but it always works well for dog owners. Chanel is often associated with luxury and elegance, which could add a touch of appreciation to female Shih Tzu's temperament. On top of that, Chanel can be a great choice if you're looking for a unique name. 
3. Phoebe
Aside from referencing Phoebe as the name of the wackiest character in Friends, this name comes from a Greek origin that means radiant or shining one. A suitable tag for a pet as lively and charming as Shih Tzu dog breeds.
It's also easy to pronounce and not commonly heard (Unless you're binge-watching!) around the house, so there's no room for confusion when the dog's name is called.  
4. Harper
Suited a cheerful and outgoing temperament, the name Harper aligns perfectly with the head-strong personality often observed in female Shih Tzu dog breeds. Although considered as a commonly used name, Harper gives off an intense feeling of familiarity every pet owner needs when welcoming a dog as a new member of the family.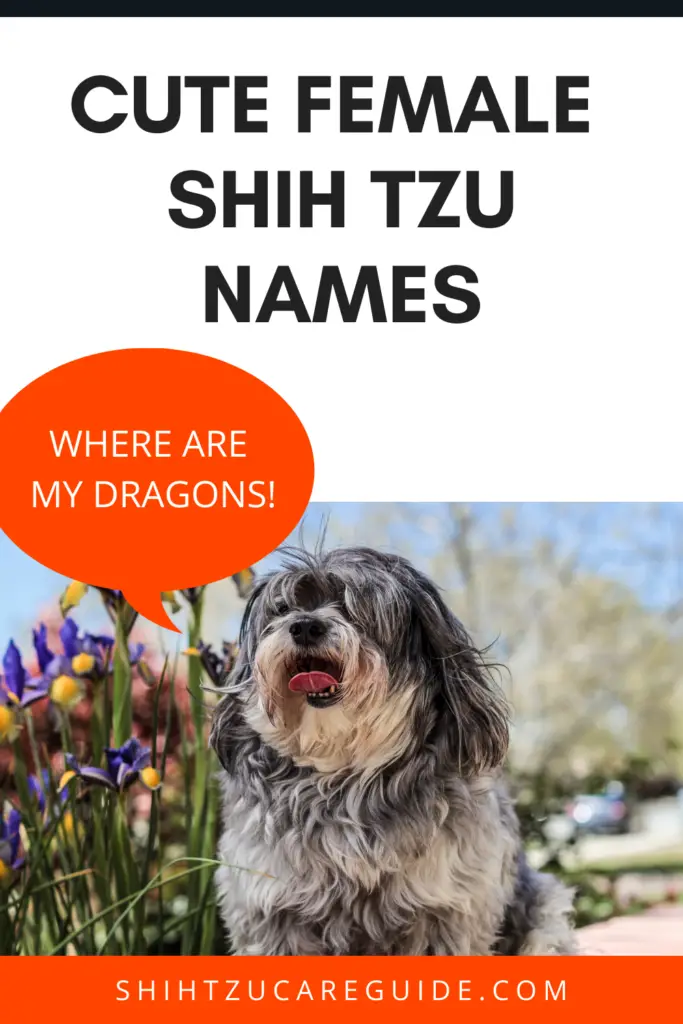 Conclusion
As a new dog owner, scrolling through different female Shih Tzu names could quickly stir a feeling of excitement. After all, you want only the best for your charming fur baby.
However, despite the vast selection, always keep in mind that this name will play a role in the bond you'll build with your dog.