When I first held my Shih Tzu for the first time, one of the main concerns I had was rabies.
Does a Shih Tzu have rabies?
Will I get rabies if my Shih Tzu puppy bit me?
Should I be vaccinated?
In January, my dogs took advantage of the free anti-rabies vaccine campaign, facilitated by the Veterinary Service Division of our local government. This program is in accordance with the Rabies Prevention and Control Program to support the Republic Act 9482 (Anti-Rabies Act of 2007).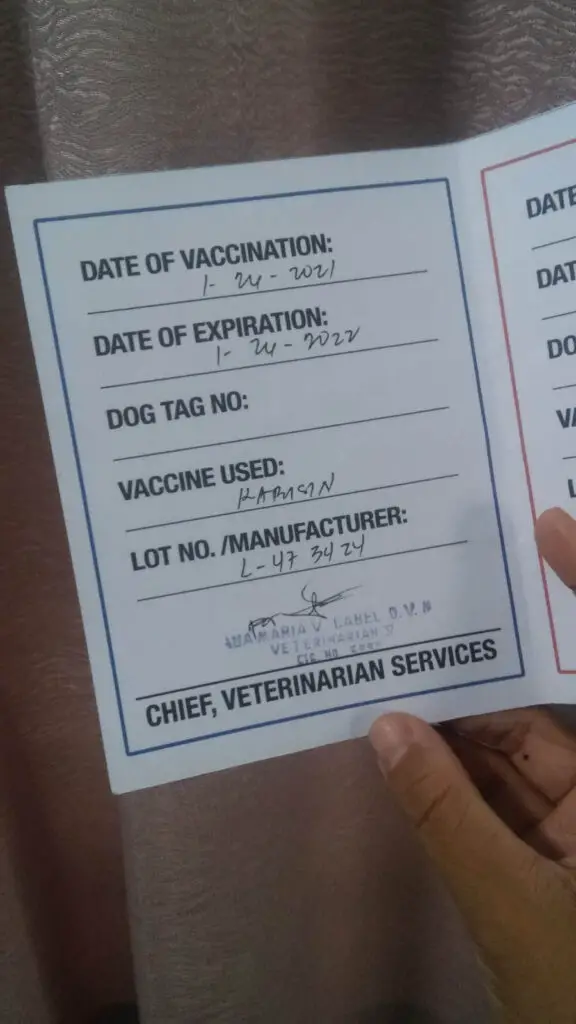 As responsible Shih Tzu owners, it is our duty to protect our pets and ourselves from this deadly illness. Also, the anti-rabies vaccine can be expensive. Having this kind of program where you can have your dogs vaccinated for free is definitely a huge help to all dog owners.
What is rabies?
According to CDC,
Rabies is a preventable viral disease most often transmitted through the bite of a rabid animal. The rabies virus infects the central nervous system of mammals, ultimately causing disease in the brain and death.
Meanwhile, the World Health Organization (WHO) defines rabies as:
Rabies is a viral zoonotic disease that causes progressive and fatal inflammation of the brain and spinal cord.
Clinically, it has two forms:
Furious rabies – characterized by hyperactivity and hallucinations
Paralytic rabies – characterized by paralysis and coma
Rabies kills thousands of people each year, 99% of which are from the bite of an infected dog.
Does a Shih Tzu have rabies?
Rabies is not hereditary. This means any breed of dog, Shih Tzu included, does not have rabies at birth. Shih Tzu puppies acquire immunity from certain illnesses from their mother. But as soon as the mother stops nursing her puppies, they become susceptible to certain illnesses like fungal or bacterial infections and rabies. As a preventive measure, an anti-rabies vaccine should be administered to puppies between the age of 6-8 weeks.
Do all puppies have rabies?
A puppy will get rabies if he is bitten by a rabid dog. The virus is transmitted through the saliva. Therefore, if your puppy is bitten by a rabid dog, the virus will enter the bloodstream through the open wound.
Meanwhile, if a puppy doesn't have any interaction with a rabid dog, he is safe from the virus. But then again, preventive measures must be observed to prevent our dogs from being infected by the virus.
What are signs that my Shih Tzu has rabies?
Rabies is fatal to Shih Tzu and humans. If your gut is telling you that your Shih Tzu has rabies, do not dismiss it. Isolate your Shih Tzu right away. Do not allow children or any members of your family near the dog.
If your Shih Tzu has contracted the virus, some of the signs and symptoms include:
A change in your dog's behavior
Your Shih Tzu will be too excited and then becomes vicious
Excessive drooling
Fever
Difficulty in swallowing
Seizures
Paralysis
and eventually, death
If you're Shih Tzu is showing any of these symptoms, consult your veterinarian right away.
How can I protect my Shih Tzu from rabies?
The first line of defense that a Shih Tzu must have against rabies is vaccination. As mentioned, an anti-rabies vaccine should be administered to puppies between the age of 6-8 weeks. Then, anti-rabies boosters are required every year.
Next, do not allow your Shih Tzu outdoors if he has not been vaccinated yet. This will prevent him from being exposed to other viruses and illnesses outside. Aside from rabies, there are other illnesses that can be deadly for your Shih Tzu like Parvo, Kennel Cough, and Hepatitis.
Lastly, do not allow your Shih Tzu to interact with other dogs without supervision. Although socialization is essential to correct behavioral issues, having a healthy dog is far more important. Do not allow your Shih Tzu near strays, or lick and sniff other dogs.
What are the side effects of the anti-rabies vaccine in Shih Tzu?
This was actually a question I asked the vet after my Shih Tzu was vaccinated. I was told that my Shih Tzu is healthy but may experience a few side effects from the vaccine. These side effects are:
Loss of appetite
Lack of energy
Body pain
Mild swelling or itching on the injection site
Not all Shih Tzu show side effects from the vaccine. My Shih Tzu actually didn't experience any.
But there are some who experience serious side effects like:
IF this happens, consult your veterinarian right away.
Can a Shih Tzu take a bath after an anti-rabies vaccination?
No. Do not, I repeat, DO NOT bathe your Shih Tzu after his anti-rabies shot. This is a common mistake, which can actually lead to death. Due to the stimulated immune system created by the vaccine, our dog's bodies need time to rest. Bathing your Shih Tzu can cause his body temperature to go down, which can trigger stress and discomfort.
If you're worried that your Shih Tzu is a little stinky, bathe him first before visiting the vet for the anti-rabies vaccine.
After my Shih Tzu was vaccinated, the vet advised me to bathe my Shih Tzu after 7 days. That is what I did.
My Shih Tzu puppy bit me. Do I need an anti-rabies vaccine?
Even though your Shih Tzu is rabies-free, you need to get your anti-rabies shot as a preventive measure. This is called post-exposure prophylaxis. Meanwhile, the anti-rabies vaccine can also be administered ahead of time. People who are considered at risk are veterinarians, dog trainers, or animal handlers.
Do I need a tetanus shot after a dog bite?
If you haven't been given an anti-tetanus shot in 5 years, your doctor would advise you to get the shot along with the anti-rabies vaccine. It's standard procedure for dog bites.
A little back story.
I was scratched by my Shih Tzu a few days after I got him. The cut wasn't too deep, but it got me worried. So, I cleaned the wound with water and soap and went straight to the hospital for my anti-rabies vaccine shot.
My right arm was numb for 2 days. Not because of the anti-rabies vaccine, but because of the anti-tetanus shot.
After two weeks, I came back to get my last dose of anti-rabies and anti-tetanus shots. The shots weren't painful. But the numbing is really uncomfortable. This is why the doctor would give the shot to your less dominant hand.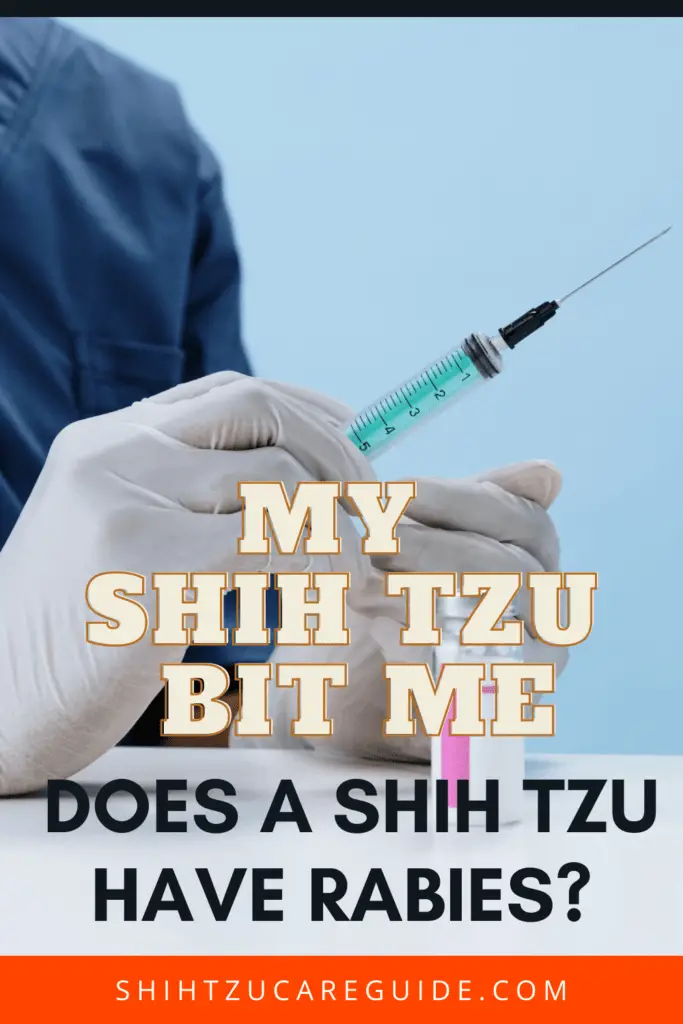 Final thoughts
Rabies is a fatal disease. Unfortunately, there is no cure.
If you're Shih Tzu is infected by the virus, isolate your dog, and consult your vet immediately. You won't be able to save your pet. Things will get ugly, and your Shih Tzu will succumb to its demise.
But it can be avoided if you will vaccinate your dog as soon as he's ready. Vaccines provide protection against certain illnesses and protect you and your family.
Vaccines should not be taken for granted. Our commitment doesn't start and end in providing food and shelter to our dogs. Making sure that our pets are healthy is the most important responsibility every Shih Tzu owner must do.