Affiliate Disclosure: This post may contain Amazon affiliate links. This means I get a small commission for qualifying purchases made at no extra cost to our dear readers. Funds go to dog biscuits, chicken nuggets, and other tasty dog treats. Please read the disclaimer for more info. Woof-woof.
I see a lot of Shih Tzu on Facebook wearing dog collars or harnesses at home all day. As a first-time Shih Tzu owner, I was curious.
Should I leave the collar on my Shih Tzu all day?
I always keep my dogs indoors. This way, I can keep an eye on them while I work. But sometimes, my dogs tend to be creatures of mass destruction. If they find themselves feeling "ignored", they would do everything in their power to grab my attention.
Having their collar on all day allows me to attach their leash effortlessly, especially during busy workdays when I only have a few minutes to spare for quick short walks.  
I know it's convenient, but still, the question lies…
Should I leave the collar on my Shih Tzu all day?
I prefer my Shih Tzu to have his collar on all day for two reasons: function and comfort. This allows me to connect his leash easily for walks, and for my peace of mind.
Before you decide, ask yourself,
"What's the purpose of having a collar on my Shih Tzu all day?"
Unfortunately, your dog has a tendency to run away. Having a collar with a dog tag all day will prevent your Shih Tzu from getting lost permanently.
If you see that the collar is making your Shih Tzu uncomfortable, identify the problem and find a solution.
"Is the collar too tight?"
"Is the collar too thick?"
"Is the collar causing rashes or other skin irritations?"
Is the collar too big?"
Addressing these problems will help you decide if your Shih Tzu really needs to have a collar on all day and what type of collar to buy.  
What should I put on my dog's tag?
A dog tag is worn with a collar to identify that a dog is not a stray. A dog tag has the dog's name, the owner's name, the owner's address, telephone number, microchip number (optional), and medical needs (for example, needs cancer meds, or allergic to chicken).
Sometimes, the dog tag comes with the collar and leash that you buy in the store or online. However, it's best to have a dog tag sold separately. This way you can request to have it personalized. 
Related post: 500+ Shih Tzu names: An essential guide for first time Shih Tzu owners
What size collar should I get for a Shih Tzu?
First, identify which collar will fit your Shih Tzu using a tape measure. Use the measurement as a reference when you buy the collar in the store or online. Next, identify what size collar should you get using the guide provided. For example, my Shih Tzu is 1 year and 7 months old. I measured his neck and it's 11 inches or 27.94 cm. Online, his measurement can fall under the size XS or S. 
If your Shih Tzu is younger and/or smaller, the size of his neck is probably around 9 to 10 inches. Therefore, you should get a dog collar in the size XXS or XS.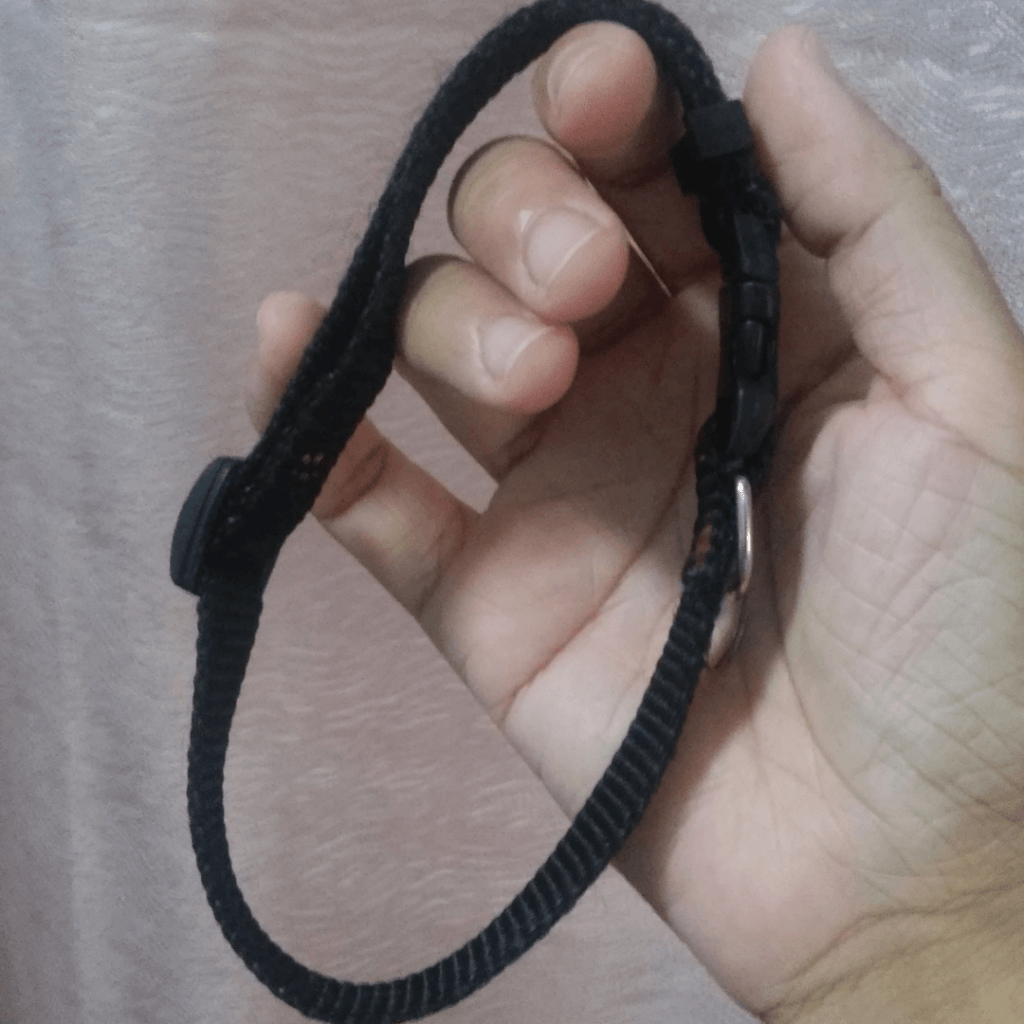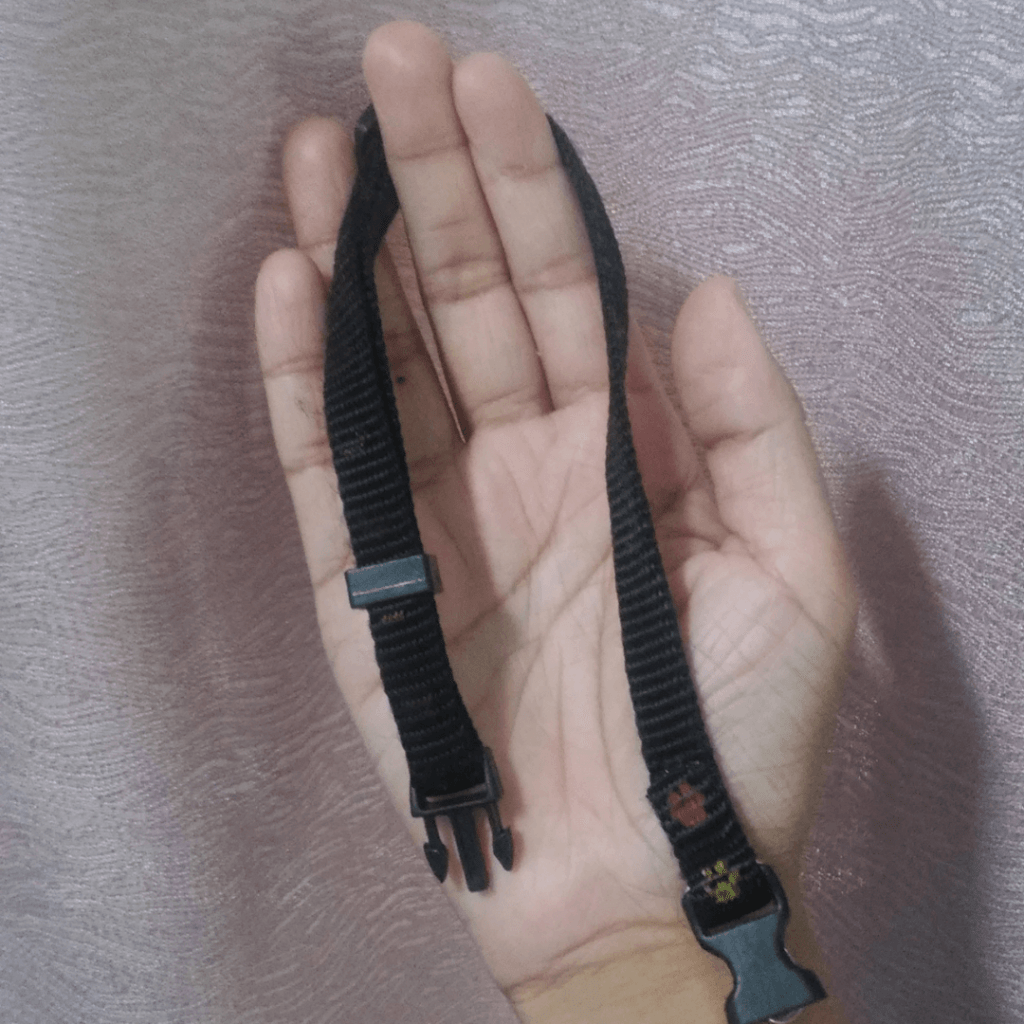 The collar is made up of nylon, with a plastic easy snap buckle.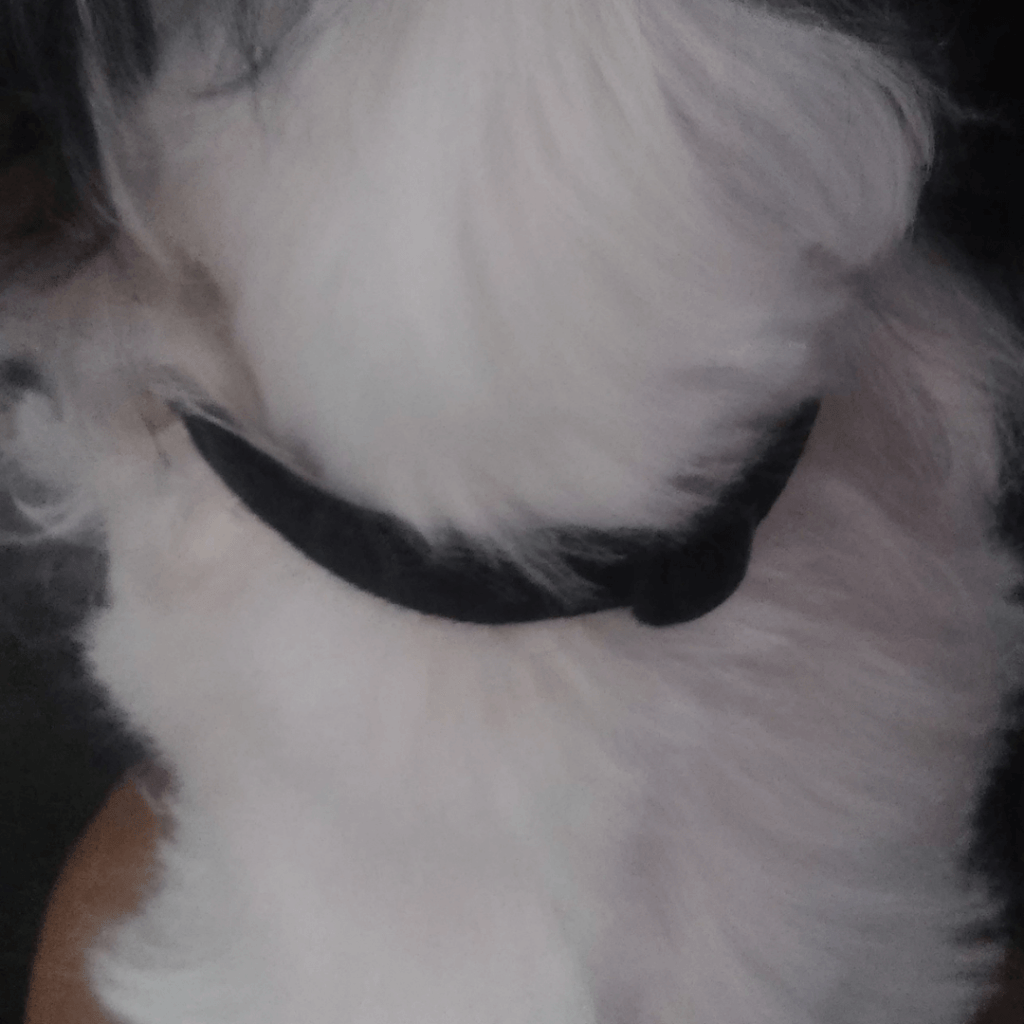 It looks skinny when worn, but I think it fits perfectly. It's comfortable and not too tight.
How big is a Shih Tzu neck?
When I first got my Shih Tzu, he was 5 months old. He was so small that I had a hard time finding the perfect collar for him. Everything that I find in the store or online was too loose. This prevented me from giving him short walks. If I would bring him outside, I will simply carry him in my arms.
Fast forward to his first birthday, I finally found a collar that fits him. At that time, his neck was already 10 inches. I went to a pet store and bought a pink collar with dog bone designs. It was so cute. 
From my experience, Shih Tzu neck usually measures between 9 to 13 inches according to age and size.
How do I know what collar is right for my Shih Tzu?
If you are in the market for finding the best collar for your Shih Tzu, here are some of the things you need to consider.
The collar must be adjustable. If you cannot insert your 2 fingers between the collar and your dog's neck, that means it's too tight. Find a collar that has a tri-glide buckle so you can adjust the length easily.
Consider the material used for the collar. There is a wide range of dog collars in the market. Choose a dog collar that's functional, comfortable, and will not cause allergies, or skin irritations. For my Shih Tzu, I use a dog collar made of nylon. Some Shih Tzu owners prefer dog collars made of cotton, polyester, microfiber, velvet, and leather. 
Consider the size. If you will buy a dog collar from the store, bring a tape measure with you. This will help you buy the most accurate dog collar for your Shih Tzu. Meanwhile, if you're buying online, consider the size guide provided in the product description. If it matches your dog's measurements, that means it's a good fit. 
The collar must have a durable lock. Some Shih Tzu owners prefer dog collars with quick-release buckles made of plastic, while others prefer a dog collar with a metal buckle. I also found a cute dog collar with a seatbelt type buckle and a dog collar that uses a regular belt buckle for a vintage look. 
The collar must not be a choking hazard. Our Shih Tzu are adorable as they are. But sometimes, we love playing dress-up. This can be a fun bonding activity with our pets, but above all, safety must always come first. I avoid dog collars that have rhinestones, studs, pearls, and beads. These materials are choking hazards, therefore, life-threatening. Avoid them at all cost.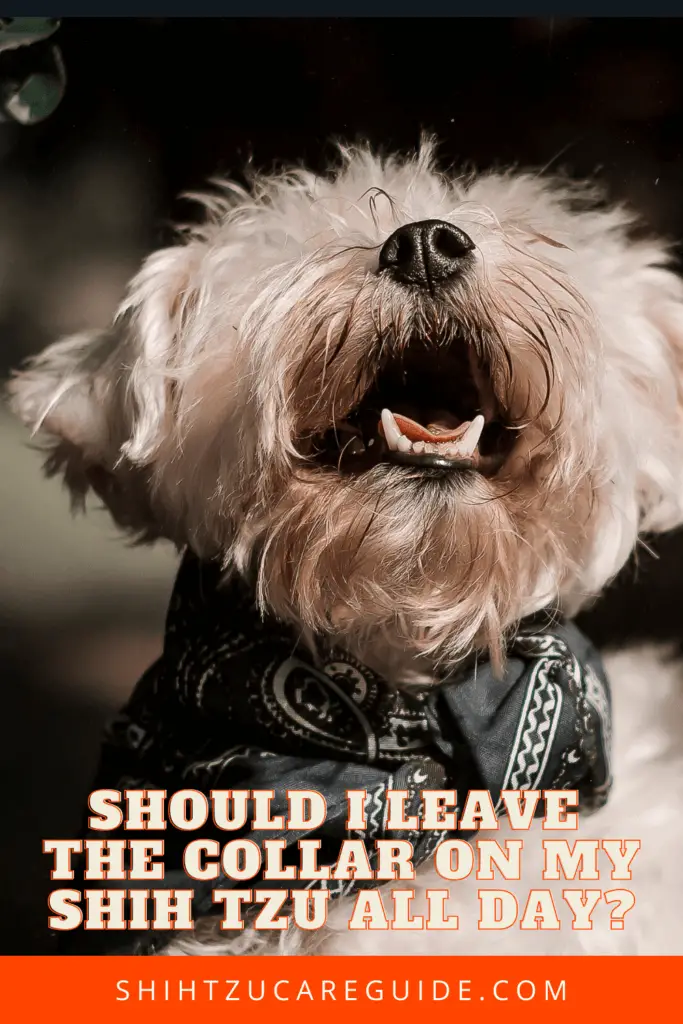 Final thoughts
As first-time Shih Tzu owners, the safety and security of our dogs will always be our top priority.
If you decide that it's best for your Shih Tzu to have his collar on all day, make sure that the dog collar serves its purpose. Find a dog collar that is made up of sturdy and comfortable materials, fits perfectly, and has important information in case your dog runs away.