Having a hard time choosing the best dog food for your Shih Tzu? Dog owners who always seek reliable health information for their pets deserve the right and accurate advice to keep their dogs healthier and even happier. However, what if your Shih Tzu has allergies? Listed below are the best dog foods for your Shih Tzu with allergies:
These veterinarian-approved dog foods will keep your Shih Tzu healthy. Some of these improve their digestion, vision development, boost their immune system, help develop their firm muscles and strong joints, which definitely will help you choose the best dog food for Shih Tzu with allergies.
Disclaimer: The contents of this blog post are based on personal experience and shouldn't be treated as a proper consultation. All content and information on this website are for information and educational purposes only do not constitute professional advice of any kind and do not establish any kind of professional-client relationship by your use of this website. To ensure the health and wellness of your Shih Tzu, ALWAYS CONSULT YOUR VETERINARIAN.
Affiliate Disclosure: This post may contain Amazon affiliate links. This means I get a small commission for qualifying purchases made at no extra cost to our dear readers. Please read the disclaimer for more info.
10 best dog food for Shih Tzu with allergies
10 best dog food for Shih Tzu with allergies
1. Royal Canin
Royal Canin is one of the most popular brands of dry dog food simply because it's the best. We tried it ourselves and my dogs couldn't be happier. However, we stopped using it because my dogs are allergic to chicken. But if yours isn't, this is an excellent option for you.
Dry
Flavor: Chicken
Contains a high source of high-quality carbohydrates, fiber, and protein which reduces stool odor
Contains biotin, Omega-3, and Omega 6 which helps maintain a soft and long coat
2. Avoderm
If your Shih Tzu has reached its 10th month, then it's time to switch to a dog food that's meant for adults. Doing so can provide more nutrients that you dog needs to stay healthy and prolong their life.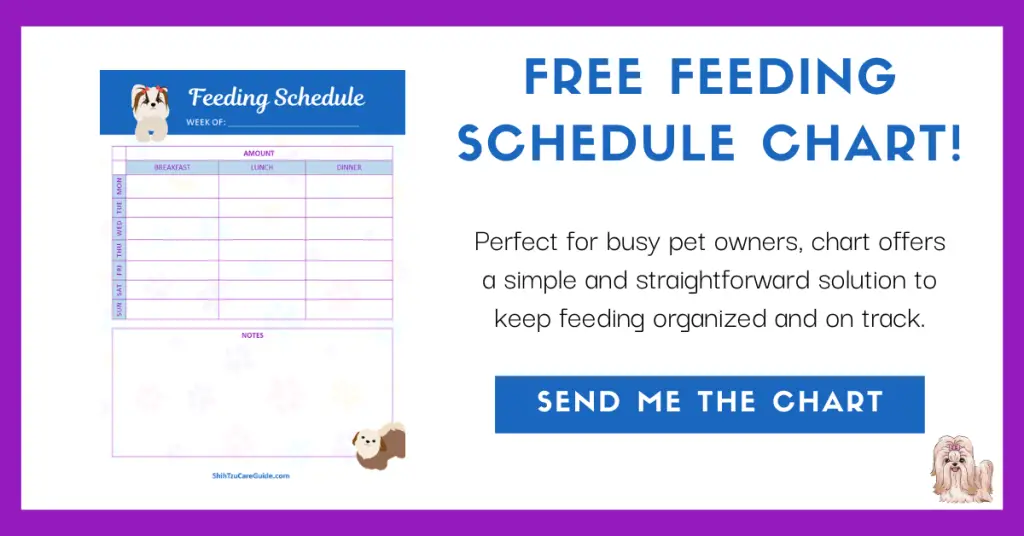 For this, I highly recommend Avoderm. If you're Shih Tzu needs an immune system boost. Avoderm is just as perfect.
Dry
Main ingredients: avocado, brown rice, chicken, dried plain beet pulp, dried tomato pomace, and oatmeal
Contains Omega-rich avocados for healthy skin and coat
All-natural: no preservatives, no artificial flavors
Wheat-free, corn-free, soy-free
Made in the U.S.A.
3. Hill's Science
Don't be fooled. I know the dog images in the package is super adorable. But there's more to it than that. In a veterinarian recommendation survey conducted in 2019, Hill's Science is the number 1 recommended brand by U.S. veterinarians.
Dry
Flavors: Chicken and Lamb and Brown rice
Easy to digest
Contains Omega 6 and Vitamin E for healthy skin and a shiny coat
Calorie content: 3741 kcal/kg (371 kcal/cup)
Made in the U.S.A.
4. Purina
"Will never feed my dogs anything else." This is just one of many positive reviews you can find online about this dog food for Shih Tzu with allergies. You will appreciate how the brand has been true to its mission. That is, to provide the most advanced nutrition for your pet's best life.
Dry
Variety: Small breed and Toy breed (either way can be good for your Shih Tzu)
High in protein with live probiotics digestive and immune health
5. Farmer's Market Pet Food Premium Natural Dry Dog Food
You and your Shih Tzu will love this brand because it's developed by nutritionists and specially formulated for small dog breeds like your Shih Tzu. Moreover, their products are free from artificial flavors and preservatives which is excellent for Shih Tzu with allergies.
Dry
Corn-free, soy-free, wheat-free
Strengthens teeth, strong bones and digestive support for healthy digestion
6. Canidae
If you're Shih Tzu is a picky eater, this is highly recommended. I like how the kibbles are small enough for easy chewing. Most of all, Canidae has antioxidants and probiotics which is every important for Shih Tzu with allergies.
Dry
Flavors: Chicken, Lamb, Salmon (Amazon Choice)
Corn-free, grain-free, soy-free, wheat-free
Contains Omega 3 and Omega 6 for beautiful skin and coat
With antioxidants and probiotics for healthy digestion
7.Blue Buffalo
Is your Shih Tzu overweight? Obesity is one of the most important issues we encounter as pet owners, but it's seldom talked about. I think we need to take it seriously as much as we care about what best dog food is available for our Shih Tzu that has allergies. Blue Buffalo is the only brand in this list that addresses this concern.
Dry
Formulated to maintain your dog's healthy weight
Contains a precise blend of vitamins, minerals, and antioxidants formulated by animal nutritionists
No artificial flavors and preservatives
Contains real meat, fruit, and vegetables
Contains high level of proteins for added boost of energy
8. Nutro
Nutro is an advocate for simple, purposeful, and trustworthy products. Moreover, they take pride in making real high quality protein sources of dog food free from preservatives and artificial flavors.
Dry
Made with non-GMO ingredients
Contains calcium for strong bones and joints
With DHA to support brain and eye development
9. Taste of the Wild
One Amazon review mentions this brand as high quality with reasonable price. Comparing this brand to others in this list, I believe that's true. But most of all, Taste of the Wild allows your Shih Tzu to enjoy dry dog food without the risk of triggering allergies. Most dog foods have chicken in it. This one is made up of buffalo and lamb meat. Lastly, Taste of the Wild has a hearty formula with antioxidants that help support a healthy lifestyle.
Dry
Real meat is the #1 ingredient (buffalo and lamb meat)
Contains sweet potatoes, egg product, pea protein, peas, potatoes, canola oil, tomato pomace, roasted bison, roasted venison, beef, flaxseed, potato fiber, natural flavor, ocean fish meal, salmon oil (a source of DHA)
Made in the U.S.A.
10. Wellness
Are you looking for turkey-flavored dog food for your Shih Tzu? Wellness is the one you're looking for.
Dry
Flavor: Turkey and Oatmeal
No meat by-products, fillers, or preservatives
Contains turkey, blueberries, flaxseed, and spinach
Contains antioxidants, glucosamine, Omega fatty acids, probiotics, and taurine for a healthy heart
Made in the U.S.A.
Honorable mentions of the best dog food for Shih Tzu with allergies
Are Shih Tzu dogs prone to allergies?
In Shih Tzu dogs, allergies make their skin itchy, also known as "atopy". Symptoms of allergies include:
Frequent ear infections
Rubbing the face
Foul odor in the ears 
Foul odor of the skin even after bathing 
Licking paws
Redness and itchiness in the feet, belly, ears, and folds of the skin that won't go away
Symptoms can get worse as the Shih Tzu grows old.  Luckily, there are treatments available to address this problem. Consult your veterinarian immediately so as not to prolong the discomfort and pain caused by allergies. 
What antihistamine can dogs take?
Diphenhydramine (Benadryl®) – For many years, Benadryl has been the most popular and inexpensive over-the-counter medication for allergies. A common side effect of this medicine is that dogs tend to get very sleepy, which is actually perfect to those who don't travel well, or experience nervousness during storms, etc. 
Another downside of Benadryl, compared to other brands is the dosage. The medicine requires to be taken 2-3 times a day, at around 1 mg per pound body weight. This can be difficult for large dogs, but for small breeds like Shih Tzu, this is manageable. 
Cetirizine (Zyrtec®) – Unlike Benadryl, Cetirizine can be taken once a day. A common side effect is that dogs tend to get drowsy. But other than that, Shih Tzu dogs with allergies tend to respond well with this medicine. 
Loratadine (Claritin®) – Loratadine is another common antihistamine that's safe for dogs. However, this is frequently combined with other drugs like decongestants which may be dangerous to your dog. Always consult your veterinarian before giving this to your dog. 
EPA (Omega 3 – Fatty Acids) – Omega 3 Fatty is known as an inflammatory supplement The three main types of omega-3 fatty acids are alpha-linolenic acid (ALA), eicosapentaenoic acid (EPA), and docosahexaenoic acid (DHA). For Shih Tzu puppies, Omega 3 helps them fight infections and illnesses caused by underdeveloped immune systems.
But for adult Shih Tzu dogs, Omega 3 helps with wound healing, relieves stiff joints, and improves the dog's mental development. 
Can I give Claritin to my Shih Tzu?
Yes and no. Before you give any type of antihistamine to your Shih Tzu like Claritin, consult your veterinarian first. DO NOT give Claritin D (loratadine and pseudoephedrine) to your Shih Tzu. D means "decongestant" which is deadly for dogs. 
How can I soothe my dog's itchy skin?
Consult your veterinarian. Itchy skin may be a symptom of a much serious illness. DO NOT self-medicate your dog. This may bring more harm than good to your Shih Tzu. 
Do not introduce any new food to your Shih Tzu. It may result in an upset stomach. Stick with dog food created for Shih Tzu with allergies, as advised by your veterinarian. 
Your veterinarian may recommend an ointment, cream, or lotion to relieve redness, itchiness, and open wounds. Be careful not to rub too much, or it may further irritate the skin. Also, it would help if you put on an Elizabethan collar, commonly known as a "cone collar" to prevent the dog from licking off the medication. 
How can I stop my dog's allergies?
Be sure that it's really an allergy. Skin irritations can also be the result of a fungal infection. Your vet may run some tests to your Shih Tzu for diagnosis and the proper treatment. 
Identify what food is causing the allergies. Switch to a dog food made for dogs with allergies.
Do not give your Shih Tzu table food. Our food may be too sweet or too salty for your dogs. This may result in an upset stomach or worsen your dog's food allergy. 
Do not use bathing products not made for dogs. Shampoos, soaps, and conditioners for humans may have harmful chemicals that cause allergies. Seek the advice of your vet for recommendations. If not available, you may temporarily use bathing soaps or shampoos designed for babies.  
What natural remedy can I give my dog for allergies?
Let's just say the vet is unavailable, or you're just too scared of giving topical medicines to your dog for the first time. Are there organic and natural remedies to relieve our dogs from discomfort? Luckily, there are and they may be in your pantry right now. 
Oatmeal – My Shih Tzu loves oatmeal. I usually serve it with boiled chicken breast, chicken liver, carrots, and potatoes. I used rolled oats. As a natural remedy, you can sprinkle ground oats to your dog's warm bath and let your dog soak for 10-15 minutes. Otherwise, you can make an oat paste by mixing ground oats with a few teaspoons of water. Then, spread it to the infected spot. Do not rub too hard. 
Coconut oil – Coconut oil has been proven to relieve skin problems since the beginning of time. For dogs who have allergies, eczema, and other skin illnesses, a small amount of coconut oil massaged in the affected area can be prescribed by the vet.
Apple cider vinegar – Be careful though, this is going to sting. So if your Shih Tzu has an open wound, do not use this in the affected area. For dry, itchy, and flaky skin, put 1 tablespoon of apple cider vinegar in one cup of water. Put it in a spray bottle and spray as needed. 
Plain yogurt – Add a spoonful of plain, low, or nonfat yogurt to your Shih Tzu kibble for digestive benefits and calcium intake of your pet. 
Tea soaks – Steep one to two chamomile and herbal tea bags in about 2 ½ cups of warm water. Once cooled, pour it on your dog's skin after bathing. Do not rinse.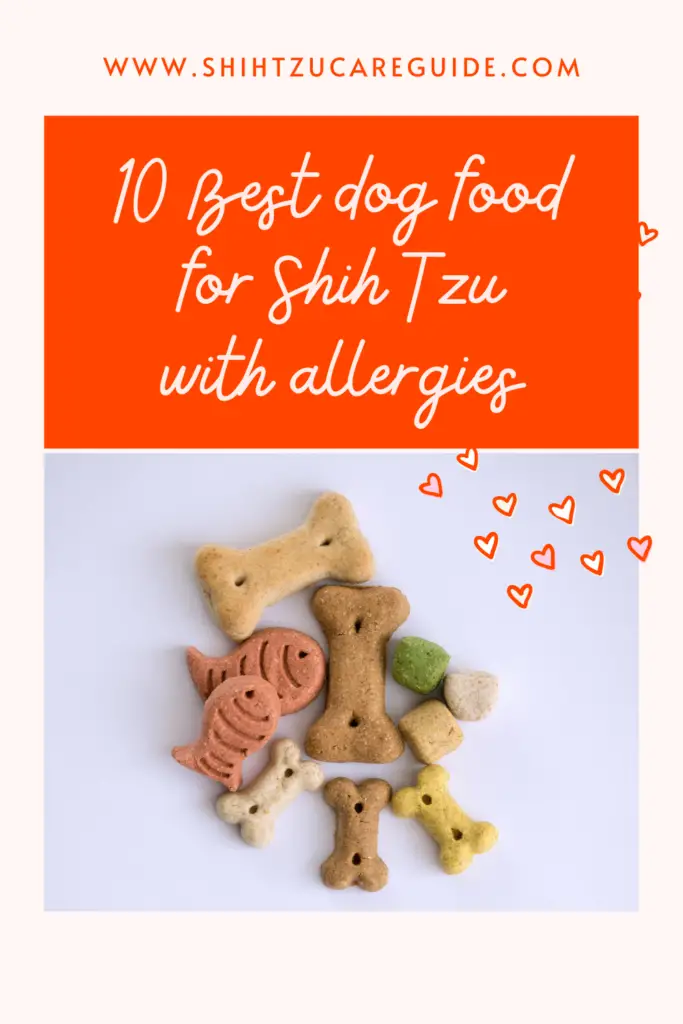 Conclusion 
It takes a lot of trial and error to find the best dog food for your Shih Tzu that has allergies. Unfortunately, there is no cure to allergies, just like with humans. Thankfully, science has provided us with safe and effective ways to manage it so our dogs would live minus the pain and discomfort. 
Besides, there's nothing more heartbreaking than seeing our Shih Tzu suffer. Therefore, it is our responsibility to provide the best possible care for our Shih Tzu.