Affiliate Disclosure: This post may contain Amazon affiliate links. This means I get a small commission for qualifying purchases made at no extra cost to our dear readers. Please read the disclaimer for more info.
Shih Tzu are known for being amiable, which makes people enjoy their companionship. But what else makes them adorable? It's absolutely a nice Shih Tzu haircut. So, what's the best haircut for Shih Tzu?
Hello, everyone. Welcome back. If you're new here, welcome to Shih Tzu Care Guide, the ultimate beginner's guide to first time Shih Tzu owners.
What's the best haircut for Shih Tzu? 
The best Shih Tzu haircut will depend mostly on three reasons namely, lifestyle, comfort, and behavior.
If your busy work schedule is stopping you from having regular visits to the pet groomer, it's best to go for a low-maintenance Shih Tzu haircut. Meanwhile, if time is not an issue and your dog likes the attention, and wants to be pampered all the time, having long locks is just as perfect.
Here are 7 of the most common Shih Tzu haircuts you can choose from:
The Puppy Cut is what most new Shih Tzu owners prefer, considering that it's low maintenance. It makes any Shih Tzu appear cuter. Plus, this Shih Tzu haircut prevents them from heat exhaustion, hence the second name, Summer Cut.
The Puppy Cut is quick and easy, usually cut evenly, about one to two inches in length all throughout the body.  
When I brought my Shih Tzu to the pet groomers for the first time, the Puppy Cut is the one that he recommended. At first, I was hesitant, considering it's his first time. But the pet groomer said it's best for him because he had a lot of tangles, especially in the stomach area. Also, I told the pet groomer that Bunso seems uncomfortable having long locks.
I'm happy with how it turned out. My Shh Tzu loves to run around the house. Therefore, the Puppy Cut allows him to move freely and avoid accidents like tripping over his fur.
Other varieties of the Puppy Cut include the one with shaved body with long ears and tail and the Moderate Length Puppy Cut which is a few inches longer than the usual Puppy Cut.
2. Teddy Bear Cut 
Teddy Bears are adorable. But a Shih Tzu that looks like a Teddy Bear is even better. The Teddy Bear Cut is almost similar to the Puppy Cut, except the Teddy Bear Cut focuses more on the face, making it look fuller and rounder as possible.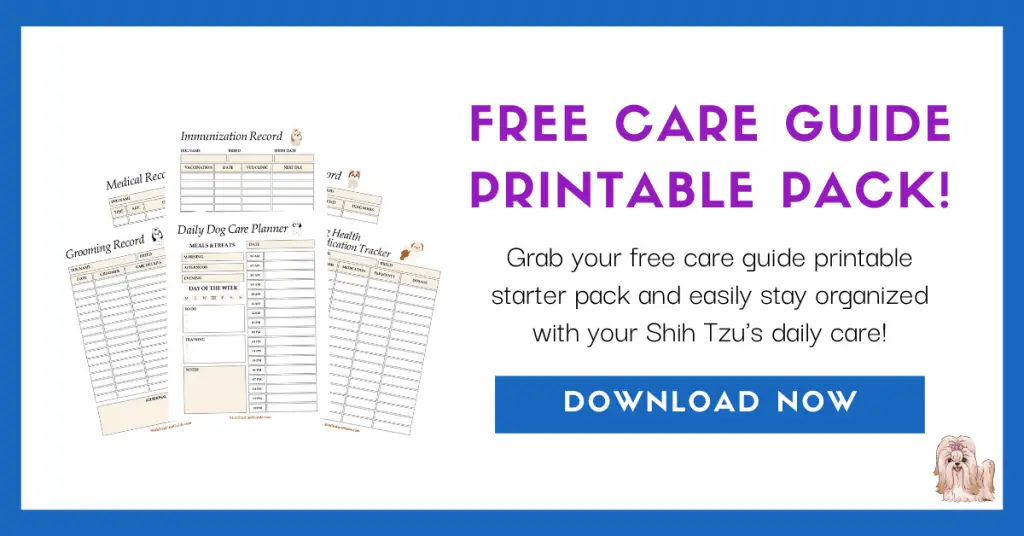 This kind of haircut comes with a cute ribbon, or any colorful bows a pet owner prefers. The hair is basically clipped on top of their head to avoid messy hairs poking their eyes. This shows that a Shih Tzu haircut determines not only patience but also reveals an owner's creativity.
So, doing this Shih Tzu haircut can be fun and interesting. If your pet is a female Shih Tzu, you'd love to have this kind of signature haircut for your dog.
4. Lion Cut
Can't get enough of Lion characters? Turn your Shih Tzus into a Lion by having a Lion Cut. Their hair is trimmed to about 1 ½ to 2 inches and they trim the hairs on their face like a lion, but a friendlier-looking lion.
I find this Shih Tzu haircut unique and beautiful. Go and try this one out. 
When should a Shih Tzu get their first haircut?
For new Shih Tzu owners, it all goes down to comfort. My Shih Tzu got his first haircut when he was 5 months old. I enjoy seeing him with long and curly hair. But I realized it's getting in the way.
For example, when he eats, food gets tangled all over his mouth and chin area. And it stains. Hair is poking his eyes which results in redness and irritation. Lastly, his hair in the stomach area is tangled and looks untidy and unhygienic.
My Shih Tzu is a very active and energetic little boy. Having these issues made me decide it's time for his first Shih Tzu haircut. Since then, I have been trimming his hair on my own using this durable dog trimmer I found on Amazon.
Grooming my Shih Tzu at home is a choice. However, I don't recommend it to everyone. Sometimes, grooming your Shih Tzu at home would do more harm than good.
Observe your dogs on his first visit to the pet groomers. If he's uncomfortable with strangers, help him calm down by talking to him, or giving him dog treats.
Otherwise, if the experience is giving your dog too much stress, it's best to take it one step at a time and groom the dog yourself.
Be careful. To avoid accidents, consult your veterinarian and invest in top quality grooming tools.
Conclusion
So, given these options, what's the best hair cut for Shih Tzu?
For me, choosing the best Shih Tzu haircut all goes down to what is comfortable to them. Some Shih Tzu look forward to regular visits to the pet groomers every 4 to 6 weeks, while others experience anxiety or depression.
If it's their first time, help them feel that it's going to be all right. Bring dog treats. Talk to them. After the session, praise them for being well-behaved and reward them with more treats.
Which one is your favorite Shih Tzu haircut?
When was the first time you went to the pet groomers? How's your experience? Let us know in the comments.