Affiliate Disclosure: This post may contain Amazon affiliate links. This means I get a small commission for qualifying purchases made at no extra cost to our dear readers. Please read the disclaimer for more info.
"Can I groom my Shih Tzu myself?"
We can't deny that a Shih Tzu haircut, healthy coat, cute ribbons, and bows on your Shih Tzus' face make them look fresh and cute. To maintain their Teddy Bear-like face and fresh hairs, they need proper grooming.
However, some pet owners can't afford to pay for a professional groomer, leaving them no choice but to groom their Shih Tzu's themselves.
Also, there are instances where Shih Tzu owners are uncomfortable with having other people groom their pets, myself included.
I had a traumatic experience when I first brought my Shih Tzu Bunso to the pet groomers. It's not their fault though. I'd say they're very professional. But Bunso is certainly not having it. He's uncomfortable, scared, and super stressed about the whole process. Probably because it's his first time. He won't sit still. I try to comfort him, but he won't listen.
After an hour, I saw Bunso with a Shih Tzu haircut they call the Puppy Cut. I'm satisfied with the outcome. But I can sense that the experience was very stressful for my dog. And it breaks my heart knowing that he has to go through it every 4-6 weeks.
This made me think, "Can I groom my Shih Tzu myself?"
"Should Shih Tzu's be shaved?"
Hello, everyone. Welcome back. If you're new here, welcome to Shih Tzu Care Guide, the ultimate beginner's guide to first time Shih Tzu owners.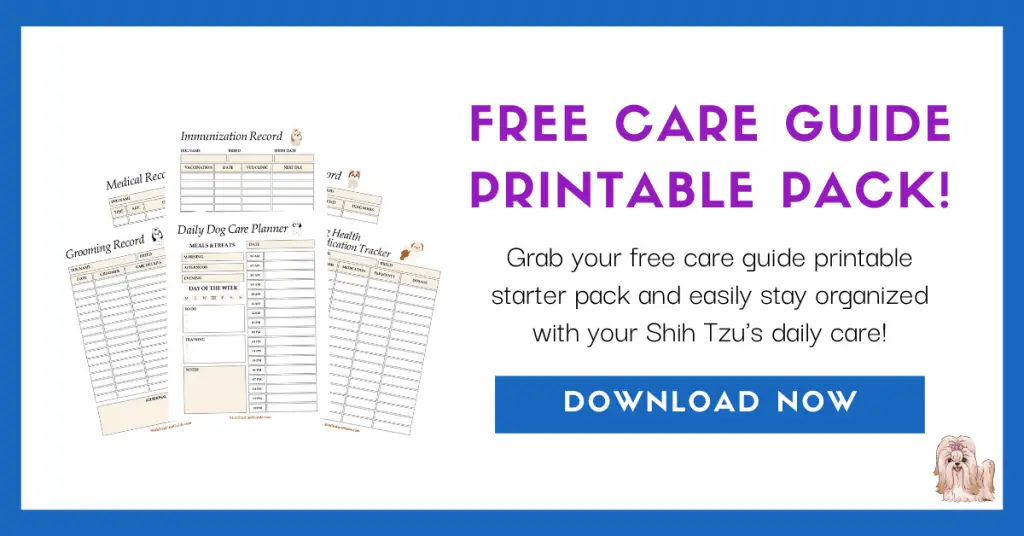 Can I groom my Shih Tzu myself? 
Yes! But you need to make sure that you're using pet-friendly grooming tools and products to prevent any skin damage that may lead to serious health problems. Keep in mind that grooming a Shih Tzu yourself requires your patience, effort, and time, especially if you want to achieve the best Shih Tzu haircut for your pet.
The hair of your Shih Tzu grows quickly, it may even damage their eyes if not trimmed regularly. Therefore, the frequency of their grooming depends on the length of their hair, and of course, a Shih Tzu haircut that's neat and comfortable for your pet.
Here are the 7 simple ways on how I groom my Shih Tzu myself:
Shih Tzu haircut
Nail trimming
Ear cleaning
Face wiping
Brushing and combing their hair
Bathing
Teeth cleaning
Shih Tzu haircut
First, you need a reliable dog trimmer that has low noise and low vibration. Mine has 4 adjustable guide combs that will prevent me from cutting my pet. Plus, I like the fact that my dog clipper is rechargeable.
Therefore, the cordless design helps me move freely which makes hard-to-reach spots easy to handle.
Hair trimming can be tricky at first. If this is your first time, take a deep breath, go with a light hand, and pet your dog while trimming. Petting your dog is a reassurance that the process is not going to hurt.
This will help your Shih Tzu calm down and trust you even more. Having the perfect Shih Tzu haircut for your pet needs practice. Don't worry if it looks crooked. You'll get better at it over time.
For me, one of the most difficult parts of a Shih Tzu to groom is their ears. Thank God, my Shih Tzu Bunso never had any medical problems like ear mites or yeast infection. What bothers me are the hairs growing from inside.
I know that it's uncomfortable and itchy. Sometimes, I trim it after his bath. But our vet recommended a better solution.
Dip your fingers in the ear powder and start pulling the hair out. It's less itchy, and helps you grips hair for easy removal.
In case your Shih Tzu is suffering from ear infections, I highly recommend the Zymox Ear Solution. This gentle and no-sting formula soothes inflammation and redness caused by yeast, bacteria, and fungi infections. No pre-cleaning required. All you have to do is fill the ear canal with the solution and let it do the work for you.
Nail trimming
I have searched far and wide for the perfect Shih Tzu nail clipper. I've tried a lot. In the end, I find that a guillotine-type nail clipper works best for my dog. Below is a photo of what I got from Amazon. I like this kind of nail clipper because of the easy-grip handle.
There was never a time when I over-cut my dog's nails with this. Also, I love the fact that the blades are easy to replace, which is a fraction of the cost of a new nail clipper. Lastly, this guillotine-type nail clipper was recommended to me by our vet.
Getting recommendations from a professional gave me peace of mind.
Face wiping
For face wiping, check their face, their nose, paws, and their eyes for dirt that can be wiped. Whether their hair is trimmed or not, know that your Shih Tzus are explorers by sniffing just like other dog breeds.
So, the hair is not only the one that needs proper cleaning. No matter how small the dirt is, your Shih Tzus can still accumulate dirt or mud.
You don't want to get alarming signs of your pet's health, right? 
For face wiping after every meal, I dilute a small amount of tear-free baby shampoo in warm water. Then, I use it to moisten his face towel so I can start wiping.
Dog wipes work well, too. This one from Earth Rated is hypoallergenic, cruelty-free, alcohol-free, and paraben sulfate-free.
Brushing and combing the hair
In relevance to what's mentioned above, regularly brushing and combing your Shih Tzus makes them have a healthier and smoother coat. Comb the hair around their face and body. Afterward, brush them to avoid knots or tangles.  
I tried plastic combs, but I always go back to a stainless steel one. It's perfect for removing tangles and knots, especially if my dog is not due for a Shih Tzu haircut yet.
In fact, another reason why I got this one is that I read a funny review that she found these stainless-steel combs perfect for jumping cactus and sticky seeds, haha.
But brushing and combing your dog isn't enough. You also have to bathe them to avoid awful smells and to make them look fresh and cute.
Teeth cleaning
Another thing that my Shih Tzu hates is me brushing his teeth. Aaand, he hates peanut butter. Ironically, this dog kit with peanut-flavored toothpaste is something that he likes. The brush that comes with it is too big for him. So, I use a finger brush instead.
Should Shih Tzu's be shaved? 
While it's alright to cut unnecessary hairs on your dog, getting extra maintenance may trigger skin irritations, just like shaving. It's advisable to always check if your Shih Tzus are susceptible to any skin problems.
However, if it sheds hair and you find it difficult to deal with their fallen hairs on the floor, or on the couch, choosing to shave is not good at all, especially if your dog's double coated.
The hair that's been shaved may not grow back as smooth as the natural hair. 
Also, in Summer, if shaving your Shih Tzus will make them fresh, think twice. Completely shaving your Shih Tzus exposes their skin to sensitivity and can even lead to sunburn. Shaving will also worsen their condition, especially if they have allergies. 
Moreover, I think it's best if go with the Puppy hair cut instead. It's not too short. Plus, I find that it's easy to maintain, and I get to dress up my Shih Tzu, too.
Doing grooming yourself is quite risky. So, remember to always seek medical advice from professionals.
Conclusion
As a pet owner, your love for your Shih Tzus isn't all about putting on charming hair clips and colorful clothes. They need more than your playtime.
It always comes with maintaining the suitable Shih Tzu haircut and grooming them regularly with love and tenderness.