Your Shih Tzu's hair makes them unique among the other dog breeds. But, like human hair, their hair grows fast, too. This is the reason why your dog needs a Shih Tzu haircut to keep them fresh and to prevent any skin irritations. But the question is, do you know how often does your Shih Tzu need a haircut?
Affiliate Disclosure: This post may contain Amazon affiliate links. This means I get a small commission for qualifying purchases made at no extra cost to our dear readers. Please read the disclaimer for more info.
How often does your Shih Tzu need a haircut?
Hello, everyone. Welcome back to Shih Tzu Care Guide, a blog dedicated to new Shih Tzu owners. If you're new here, below are some of our most helpful posts especially if you're considering getting a Shih Tzu, or you already have one.
Alright, so let's get to today's topic.
Today's topic is about how often does our Shih Tzu's need a haircut.
I got my Shih Tzu Bunso when he was about 5 months old. The previous owner told me that he has virgin hair, meaning he's never been groomed. At first, I liked the idea of Bunso having long hair. But as time goes, it has become an inconvenience for the both of us.
Two reasons:
1. He hates his hairdryer. Therefore, drying his dog fur after bathing takes longer than usual. He prefers to cuddle underneath his bath towel.
2. His fur gets tangled so easily. And he hates his comb. Bunso is not the type of Shih Tzu that loves cuddles. On the other hand, Kuya my mixed breed is the one who loves warm hugs. Bunso is pretty much the independent type.
He loves to run around the house, play with his toys, and hide underneath the table. This much energy is causing his fur to get tangled and matted.
These are the reasons why I want my Shih Tzu to have short hair. Moreover, my Shih Tzu color is in black and white. Therefore, having short hair is far easier to maintain compared to having long locks.
Meanwhile, some dog owners choose a Shih Tzu haircut that describes their dog's charming appearance and personality. For this, your Shih Tzu's need a haircut every 4-6 weeks. But if your dog has skin problems, having their haircut often is a must.
A Shih Tzu haircut also makes them fresh and comfortable. Just imagine if humans do not have any haircut, they may find it uncomfortable to move, and may even make them feel irritated all the time.
Our first time with a pet groomer was a traumatic experience. I'm not blaming the pet groomer though. He's been very patient with Bunso, but my dog is just not having it. Also, two days after he's been groomed, I noticed that he's scratching more than usual. Turns out, he got fleas and ticks, ewww.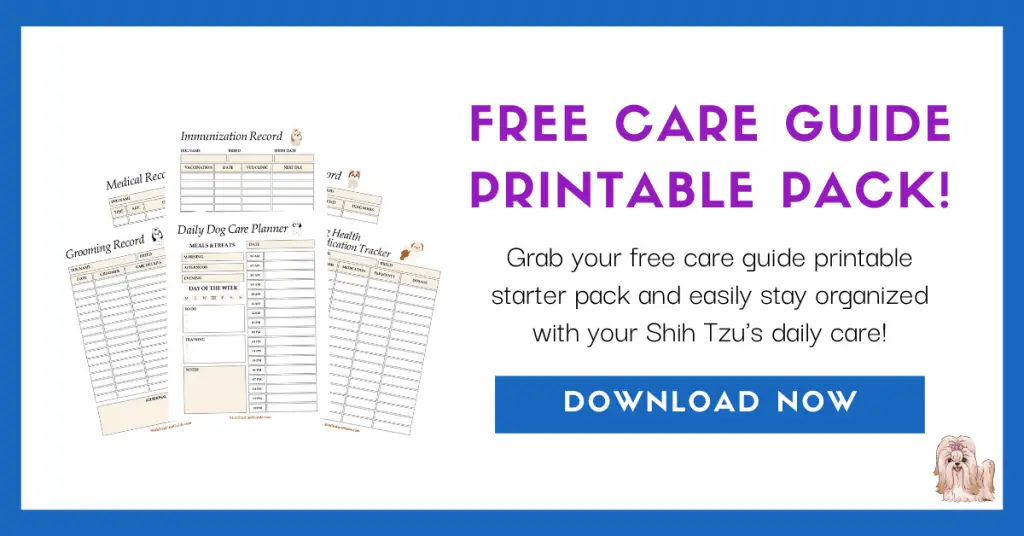 Grooming alone is very expensive. Plus, the thought of him getting infested by fleas and ticks during our visit was troublesome for me as a first-time Shih Tzu owner. Since then, we never went back to the pet groomer again.
Right now, I groom my Shih Tzu at home. Luckily, I was able to find a rechargeable dog clipper that's easy to use and has low noise and low vibration. At first, I'm scared that I'm doing more harm than good.
Over time, I feel more confident in grooming my own pet. Plus, it's cheaper when you do it yourself, and you get peace of mind knowing that your Shih Tzu is in good hands.
How do you cut a Shih Tzu's face?
First things first, before cutting the hair on your Shih Tzu's face, decide what kind of haircut is suitable for your dog. The proper haircut depends on how often you'll need to cut their hairs, especially if it sprouts.
If you don't want to spend more of your money, you will want a simple and low-maintenance Shih Tzu haircut—the puppy cut. This kind of haircut is what most pet owners prefer, as it makes their pup look fresh, especially during Summer.
Before you cut the excess hair on your Shih Tzu's face, make sure both of you are calm. If your pup isn't used to having its haircut, let it familiarize itself with all the grooming tools, because we all know that Shih Tzus are the best companions for playing around and having fun.
If your Shih Tzu isn't familiar with grooming tools, it may move fast, which may cause the worst haircut.
Start cutting the hairs in their neck—do not cut directly to their face. It can cause a lot of tangles, and you may even find it difficult to cut their hair, especially if their hair grows thick and long.
Remember to keep enough distance when cutting your Shih Tzu's face and use a scissor and brush only for Shih Tzus.
Work inwardly around their chin, up to their eyes and ears. Afterward, use your hands to feel for any knots or uncut hair around your dog's face. If you're satisfied with the haircut, then good for you! But if not, cut them again carefully, or call for a professional Shih Tzu groomer if you want to achieve the best haircut for your Shih Tzu. 
Conclusion
Your Shih Tzus will always need your time and effort for them and keeping their haircut comfortably. They don't just rely on grooming supplies, rather; they want your love and tenderness, and a stylish Shih Tzu haircut.
How often does your Shih Tzu need a haircut?
Would you rather do it yourself or have a professional pet groomer do it for you?
Let us know in the comments.