Valentine's Day is a special day for humans, but it's also a special day for our pets. It's a day to celebrate love and friendship.
Your dog is definitely one of the most important people in your life, so why not show them how much you love them on Valentine's Day?
You may be wondering, what to get my dog for Valentine's Day, but I'm here to tell you there are tons of great Valentine's Day gifts for dog owners, so you're sure to find the perfect present for your furry friend.
Here are 10 irresistible ideas that are too cute to pass up!
Affiliate Disclosure: This post contains Amazon affiliate links. This means I get a small commission for qualifying purchases made at no extra cost to our dear readers. Please read the disclaimer for more info.
1. Valentine's Day Themed Toys
One great gift idea are Valentine's Day-themed dog toys. There are tons of different options to choose from, so you're sure to find the perfect one or two for your dog.
This 2 Pack Valentine Day plush toy is great for small to medium size dogs.  It's bone shaped with a durable 16″ cotton rope that goes through the plush toy providing a variety of fun for your pup.
This toy also includes a built in squeaker that's sure to attract your dog's attention and will provide long lasting entertainment. Made from high quality material and comes in adorable Valentine's Day prints.
Give this one a look if your dog enjoys squeaky plush toys.
2. Valentine's Day Themed Dog Collar
Another great Valentine's Day gift for dog owners is a Valentine's Day-themed dog collar.
There are so many cute designs to choose from, but I like this Valentine's Day dog collar with Bowtie.
The bow tie is attached to the collar for dressing up purposes but it is detachable. You can take it off and use on other collars as well. Collar is made of thick and durable cotton fabric material. The buckle is easy to put on and take off and the metal D-ring can attach a leash and ID tag.
Be sure to add this to your collection of holiday themed dog collars.
3. Valentine Theme Dog Bowties and Hair Bows
Whether you have a boy or girl or one of each, you want your fur baby to look and feel the love on Valentine's day.
Perfect for the boy in your life, this 6 piece pack of Valentine's day bowties is sure to impress. Comes in adorable print choices and easily attaches to your dogs collar making it simple to switch them up.
For the little lady, this pretty 16 piece hair bow set will have her looking oh so sweet and cute on this Valentine's Day.
You get 16 pieces of dog hair bows in 4 styles, including 2 styles of multi-color curve bows and 2 styles of rhinestone bows. Made of high quality nylon fabric material.
The bow's backside is designed with an elastic rubber band to let the bow stay easily on your dog's hair and prevents it from sliding out. Perfect for most small and medium size dogs.
4. Valentine's Day Themed Dog Cookies
Who doesn't love some cookies?  I know I can't pass up some freshly baked homemade cookies and I'm sure our dogs feel the same way.  Why not treat your pup to some delicious Valentine's Day themed dog cookies. 
This cookie assortment from Claudia's Canine Bakery is a great option. Cookies are oven baked, filled with honey and vanilla flavor and shaped into dog bones and round donuts.
Package comes in an assortment with some plain and others are topped with yogurt and sprinkles. Cookies are USA-made with 100% human grade ingredients, no preservatives, fillers or animal by-products.
Reward your pup this Valentine's Day with these yummy cookies.
5. Valentine's Day Themed Dog Treats
If your dog prefers small treats over cookies, than Valentine's Day themed dog treats is a great option.
These oven baked treats for dogs come in a limited edition Valentine's Day theme. Classic heart valentine shapes, these treats contain only premium, all natural ingredients with no artificial preservatives. Flavors includes peanut butter and bacon and cheese.
These sell fast so order now to make sure you get them in time to gift to your pup.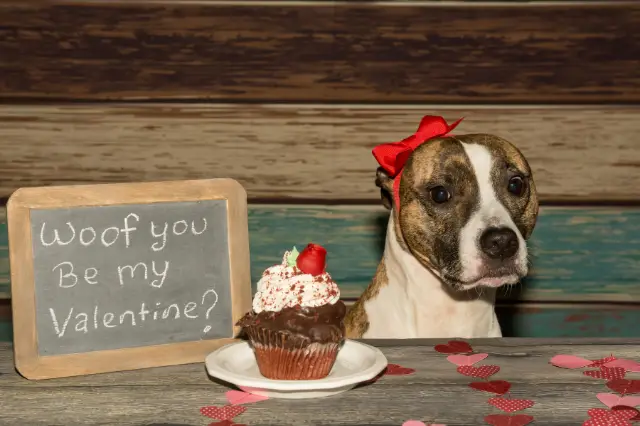 6. Valentine's Day Themed Bandanas
With these 8 pack of Valentine's Day theme bandanas your dog can celebrate Valentine's Day all month long.
Bandanas are printed with many traditional Valentine designs such as kisses, hearts and "Happy Valentine Day". Fabric is soft and breathable, easy to clean and is machine washable.
Classic bandana style, can be worn around your pet's neck and have the print facing towards the front or can be placed to have print facing towards the back.
7. Valentine's Day Themed Dog Sweaters
Depending on where you live, Valentine's Day can be a very cold time of year.  A cute Valentine's Day themed sweater would make a nice warm gift for your fur baby.
These dog sweaters come in adorable Valentine theme prints. Pullover dog sweater is made of acrylic, are very stretchable and soft which makes for a comfortable fit.
Sizes do tend to run small, so be sure to measure your pet before purchasing to ensure proper fit.
8. Valentine's Day Dog Costumes
Costumes are not just for Halloween! Valentines Day dog costumes are just too cute to pass up.
If you have a girl dog, check out this insanely cute 4 piece Valentine dog costume set. Comes with 2 piece headbands in heart and bow style, 1 dog tutu dress and 1 piece pet collar.
Soft and safe to wear, the tutu skirt is made of quality gauze and ribbons, the dog collar is made of satin ribbon and pet headband is made of soft cloth with shiny sequins and feathers.
Let's not forget about the boys!  Giddy up this Valentine's day with this 2 piece Valentine cowboy costume. Cowboy hat and bowtie collar come in classic red color and shiny sequins.
Hat is made of felt cloth and the bow tie collar is made of high quality polyester. Both the cowboy hat and bow tie collar are fitted with adjustable straps.
Perfect for a Valentine's Day photo shoot.
9. Valentine's Day Dog Pajamas
Have a quiet lazy Valentine's Day and make sure your dog is nice and cozy with a cute comfortable pair of Valentine's Day theme dog pajamas.
This 3 piece pajama set comes in 3 different heart pattern designs.  Perfect for you to choose and dress up your pet daily.
Pajamas are made of soft polysester, is stretchy, comfortable and easy to put on and take off, keeping your pup warm and comfortable.
Design has 4 legs, which makes sure your dog's limbs are also well protected.
10. Valentine Dog Blanket
Dogs love their blankets! I know mine did.  She had at least 3 that she always used. One for each of her favorite spots in the house. Consider a new blanket for your pet this Valentine's Day.
While this dog blanket is not Valentine specific, they do come in some pretty color choices and are incredibly soft.
This soft and cozy blanket is made of 100% double-sided ultra soft plush material. This well made pet blanket is ideal for rest and naptime.
Blanket is also perfect to use for protecting the couch and bed or placing inside a pet crate or carrier.
There you have it. 10 irresistible and adorable ideas for what to get your dog this Valentine's Day.
What I like about these choices are that they are not too expensive and won't break the bank. So go on and spoil your dog this Valentine's Day. I'm sure they will reward you with plenty of kisses in return.
Happy Valentine's Day!