Shih Tzu owners know that their furry friends make great travel companions. These pint-sized pups are perfect for snuggling up in a carry-on bag or taking along on road trips.
However, Shih Tzu owners also know that holiday travel can be stressful, both for them and their dogs.
To help make the Thanksgiving and Christmas season a little brighter, here are ten tips for Shih Tzu owners who will be traveling this year.
10 Holiday Travel Tips for Shih Tzu Owners
Affiliate Disclosure: This post contains Amazon affiliate links. This means I get a small commission for qualifying purchases made at no extra cost to our dear readers. Please read the disclaimer for more info.
1. Schedule a Check-Up
Before any big trip, it's always a good idea to take your Shih Tzu to the vet for a check-up. This will help to ensure that your dog is in good health and doesn't have any underlying health conditions that could make travel difficult.
Your vet will also be able to provide you with any necessary travel documents, such as a health certificate.
If your dog is due for any vaccinations, it's best to get them done well in advance of your trip so that they have time to take effect.
Also, if your Shih Tzu is prone to car or motion sickness, your vet can prescribe something to help before traveling.
Finally, your vet can give you some tips on how to best care for your Shih Tzu depending on your destination.
2. Get Id Tags
Make sure your Shih Tzu has a collar with up-to-date identification tags.
If you're traveling within the United States, this should include your dog's rabies vaccination tag.
You should also consider getting a temporary tag with your contact information on it, in case your dog gets lost while you're away from home.
If you're traveling internationally, look into getting a pet passport. This document will list your dog's vaccinations and other health information.
Your vet can help you get a pet passport.
You should also make sure that your Shih Tzu is microchipped, in case the passport is lost or stolen.
The microchip can be used to reunite you with your dog if he gets lost while traveling.
If you're not sure if your Shih Tzu is microchipped, ask your vet.
Many shelters and animal rescue organizations also have microchip scanners, so if your dog is found, he can be quickly returned to you.
3. Choose the Right Form of Transportation
Not all forms of transportation are pet friendly.
For example, many airlines do not allow dogs in the cabin, so if you're flying, you'll need to find a pet-friendly airline and make arrangements for your dog to travel in the cargo hold.
Many airlines don't allow pets at all and if they do, it can be very expensive.
Before booking your flights, be sure to check the airline's pet policy.
If you're driving, your Shih Tzu can travel with you in the car.
However, it's important to make sure that your dog is properly secured while driving.
The best way to do this is to invest in a dog car seat, booster seat or crate.
This will keep your Shih Tzu safe and secure while you're driving and will also prevent him from getting under your feet or distracted while you're behind the wheel.
If you're taking a bus, train, or another form of public transportation, be sure to check the pet policy in advance.
For example, Amtrak allows dogs up to 20 pounds (combined weight of pet and carrier) for $26 on trips up to 7 hours on most routes. You will need to give yourself plenty of time to make a reservation as they only allow 5 pets per train.
Interstate bus lines like Greyhound, have very strict rules about animals they allow on buses.  With the exception of certified service dogs, animals of any species are not permitted on any Greyhound busses.
4. Choose a Pet-Friendly Hotel
As with transportation, not all hotels are pet-friendly, unfortunately.
Before booking your stay, be sure to call the hotel in advance and ask about their pet policy.
Many hotels charge an additional fee for guests traveling with pets, so be sure to factor this into your budget.
Some hotels also have weight and breed restrictions, so be sure to ask about this as well.
If the hotel you're interested in doesn't allow pets, don't despair, there are plenty of other pet-friendly options out there.
Just do your research in advance so that you can find a place that will be welcoming to both you and your Shih Tzu.
Pet travel site BringFido is a great place to start.
5. Pack Essentials
When packing for your trip, be sure to include all of the essentials for your Shih Tzu.
This includes food, bowls, a leash and collar, and anything else your dog needs on a daily basis.
You should also pack any medications or supplements that your dog takes on a regular basis.
If you're traveling by car, you may want to pack a bed or blanket for your Shih Tzu to sleep on.
This will make him feel more at home while you're away from home.
Don't forget to pack a bag of dog waste bags as well, you'll need these for walks and potty breaks.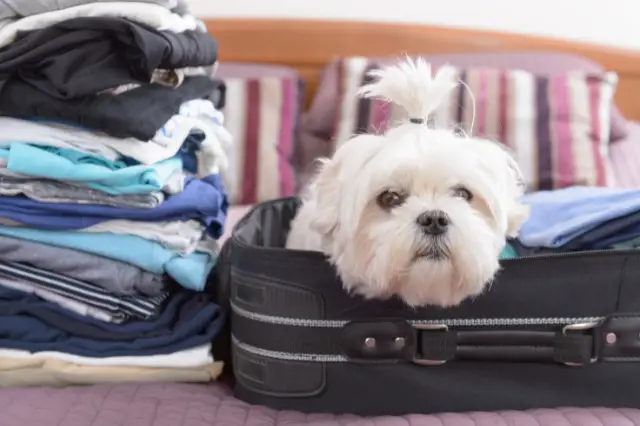 6. Research Vet Clinics Near Your Destination
If you're traveling with your Shih Tzu, it's a good idea to research vet clinics near your destination, just in case your dog becomes ill or injured while you're away from home.
Of course, you should also pack a first-aid kit for your dog.
But knowing where to take your dog for medical care in an emergency situation can be very helpful and reassuring.
Be sure to ask your vet for recommendations before you leave on your trip.
They may even have a list of recommended vets in different cities that they can give you.
It's always better to be safe than sorry when traveling with your Shih Tzu.
7. Bring Along Favorite Toys and Treats
To help your Shih Tzu feel more at home while you're away, be sure to pack some of his favorite toys and treats.
This will help him feel comfortable and relaxed in a new environment.
You might want to include puzzle type toys to keep your Shih Tzu entertained and avoid boredom as well as a few of his favorite chew toys.
8. Do Not Leave Your Shih Tzu Unattended
When you're traveling with your Shih Tzu, it's important to never leave him unattended.
This includes leaving him in the car, even for a short period of time, no matter whether it's summertime or during the holidays.
Cars can get very hot, even in mild weather, and this can be dangerous for your dog.
Many dogs will bark and destroy property if left alone in a hotel room or a strange unfamiliar environment so it's best to avoid this as well.
9. Allow Extra Time for Rest Stops
When you're traveling with your Shih Tzu, you'll need to allow extra time for rest stops. This is important for two reasons.
First, your dog will need to potty more frequently than usual when traveling. Second, exercise is important for your dog's health, even when you're on vacation. Plus, your pup will appreciate getting some fresh air and stretching his legs.
So be sure to plan for plenty of rest stops along the way.
This will help your Shih Tzu stay comfortable and relaxed during your trip.
10. Try to Keep a Familiar Routine
When you're traveling with your Shih Tzu, it's important to try and keep a familiar routine.
This means feeding him at the same time each day, walking him at the same time each day, and giving him the same amount of attention that he's used to getting at home.
Of course, it's not always possible to stick to the exact same routine when you're on vacation.
If you can, or keep it close to normal, it will help your Shih Tzu feel more comfortable and less stressed while you're away from home.
Final Thoughts
By following these ten holiday travel tips, you can make sure that both you and your Shih Tzu have a safe and enjoyable trip.
By planning ahead and being prepared, you can avoid many of the common problems that occur when traveling with a dog.
So, get out there and enjoy the holiday season with your loving Shih Tzu by your side.