Summer is the perfect time to travel with your Shih Tzu. Our dogs want to be with us, and we love bringing them along, but it's important to keep their safety and comfort in mind.
With some advanced planning and packing, you can make sure your Shih Tzu has a great summer vacation, too!
Here are 10 tips for summer travel with your Shih Tzu.
Affiliate Disclosure: This post may contain Amazon affiliate links. This means I get a small commission for qualifying purchases made at no extra cost to our dear readers. Please read the disclaimer for more info.
1. Plan a Pet Friendly Destination
Not all hotels or Airbnbs are pet friendly. Do your research and call ahead of time and make sure your chosen destination is welcoming to Shih Tzus.
You don't want to arrive and find out that your pooch isn't allowed!
2. Update Your Pet Id Tags
Be sure your pet's ID tags are up to date with your current contact information. This is especially important if you're traveling to a new area where your Shih Tzu isn't familiar with the surroundings.
In case they should run off, you want to make sure whoever finds him can reach you as soon as possible.
Also, if not already done, you should consider getting your dog microchipped. Sometimes collars slip or fall off and ID tags can become unreadable.
A microchip is a permanent form of identification that can be scanned by any vet or animal shelter and will have your current contact information on file.
3. Check the Weather
You'll want to make sure you're prepared for the weather conditions at your summer travel destination. If it's going to be hot, make sure you have enough water and shade for your pup. You don't want him to get overheated!
On the other hand, if it's going to be cool or rainy, pack some dog jackets or sweaters to keep your Shih Tzu warm and dry.
4. Make Sure Your Shih Tzu is Up to Date on All Their Vaccinations.
This is important not only for their health, but also in case you need to board them while on vacation.
This will also help protect them from any diseases they may come in contact with while on vacation.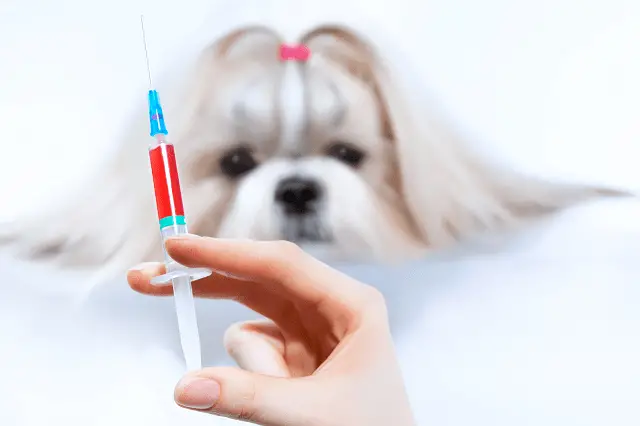 5. Check in With Your Vet Before Traveling
It's always a good idea to check in with your vet before traveling with your Shih Tzu. They can give you specific tips on how to keep your pet healthy and safe during your vacation.
Let them know your destination and travel plans so they can make the best recommendations for your pet.
6. Pack Your Shih Tzu's Necessities
Make sure you pack everything your Shih Tzu will need while on vacation, including food, water, bowls, toys, a bed or crate, and any medications they may be taking.
This Dog Travel Bag Kit I found would be perfect. Not only will hold everything you need to bring, but it also comes with 1 dog tote, 2 dog food carriers' bag, 1 water resistant place mat and 2 pet silicone collapsible bowls.
This pet travel tote also has a large inner compartment to store pet treats, toys, leashes and more!
Bring along a favorite toy or blanket to help your dog feel more comfortable in unfamiliar surroundings.
It's also a good idea to pack a first-aid kit for your pet in case of any accidents or emergencies. Don't forget to bring your vet's information along with you as well.
7. Plan a Pet-Friendly Route
When planning your vacation, be sure to map out a pet-friendly route.
This means finding hotels or campgrounds that allow pets, as well as planning for rest stops, especially when traveling by car.
Be sure to make frequent stops so they can stretch their legs and take a potty break.
8. Try to Stick to Your Routine
While on vacation, try to stick to your dog's normal routine as much as possible. This will help them feel more comfortable in unfamiliar surroundings.
If possible, walk them at the same time each day and feed them at the same times they're used to.
9. Create a Safe Space
When you arrive at your summer travel destination, create a safe space for your Shih Tzu.
This can be their bed or crate in the hotel room or a designated area in the yard or campsite.
This will be their own personal space to retreat to when they need some time to relax.
10. Plan Dog-Friendly Activities
Be sure to include some dog-friendly activities in your summer travel plans.
This could be anything from hiking and swimming to visiting a dog park or beach.
Make sure to prepare ahead for your planned activities and consider all safety measures.
When doing water activities, consider getting a dog life jacket to help keep your Shih Tzu safe.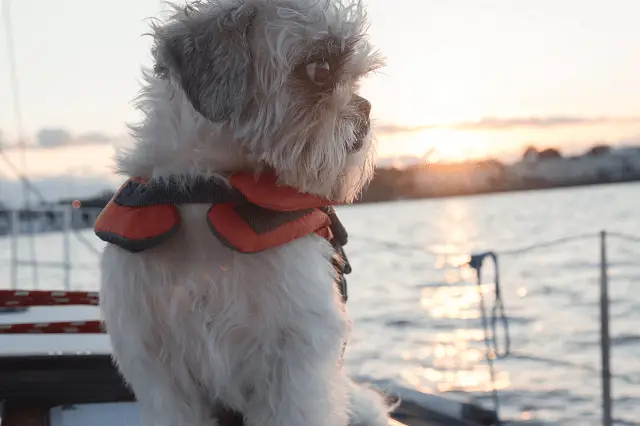 If going for a hike, make sure you're aware of any poisonous plants or animals in the area that could harm your pet.
When it's time to eat or grab a drink, stop in at a restaurant that has a patio where your dog can join you.
Just be sure to follow any rules or regulations that may be in place and be courteous of other patrons.
Final Thoughts
Summer travel can be a fun, enjoyable and an overall great experience for both you and your shih tzu.
Just be sure to do your research, plan ahead of time, and pack everything you need to keep your pooch safe and happy.
By following these tips, you can ensure that your shih tzu stays safe and happy throughout the trip.
Bon voyage!