Are you on a hunt for peculiar name ideas for your new pet? If you're a dog lover and a Potterhead, then you're in the right place! In this post, we'll be bringing you a list of adorable Harry Potter-inspired Shih Tzu girl names fresh from Hogwarts School of Witchcraft and Wizardry! 
Hello, everyone. Welcome back. If you're new here, welcome to Shih Tzu Care Guide, the ultimate beginner's guide to first time Shih Tzu owners.
Shih Tzu girl names for every Harry Potter fan
Luna
Aside from being a popular baby name, did you know that Luna also tops the list of famous dog names? In the Harry Potter movie series, Luna Lovegood is introduced as a quirky free spirit who doesn't care what other people say. Interestingly enough, this sassy trait is also often observed in female Shih Tzu breeds. 
Ginny
With easy-to-pronounce syllables and distinct impressions, it's not surprising that Ginny counts as one of the most selected Harry Potter-related Shih Tzu names out there. Despite being a shy character around her love interest, she's actually known for her independence and speaking her own mind. So, if you're welcoming a bright and cheery pup to the family, then this may be the perfect time for you to pay tribute to the luckiest girl in the movie series! 
Hermoine
Not everyone can pull this off, but it's not a bad idea to give your dog a complex name like Hermoine. As the ultimate representation of sassiness and girl power in the series, everyone in the fluff world would agree that this name evokes intelligence and elegance. Besides Harry Potter, the name Hermoine is also known in Greek Mythology as the daughter of King Menelaus of Sparta and Helen of Troy.
Bella
Among the Harry Potter-inspired Shih Tzu girl names listed here, Bella may have been one of the common ones chosen by many pet owners. This adorable name is derived from the fierce and taunting character Bellatrix Lestrange, a remarkable villain who undoubtedly became a fan favorite over the years. Unlike her often-evil demeanor, Bella has an Italian origin with pure meanings like Beautiful and Devoted to God.
Fluffy
Naturally, we wouldn't miss the chance of recommending an actual dog name from the hit movie series. Although Fluffy is a monstrous three-headed hound raised by Rubeus Hagrid, this adorable gender-neutral name will make even the naughtiest pup out there appear as sweet and gentle. And because Shih Tzu breeds are known to be part of the fluff squad, what other name is there to describe their furry features than Fluffy? 
Winky
If there's a personification of loyalty in the Harry Potter movie series, it's none other than Winky. With no desire for freedom, she continued to be a devoted house-elf despite being dismissed. This kind of devotion is a particular trait of Shih Tzu breeds who tend to stick by their favorite human's side and gain affection.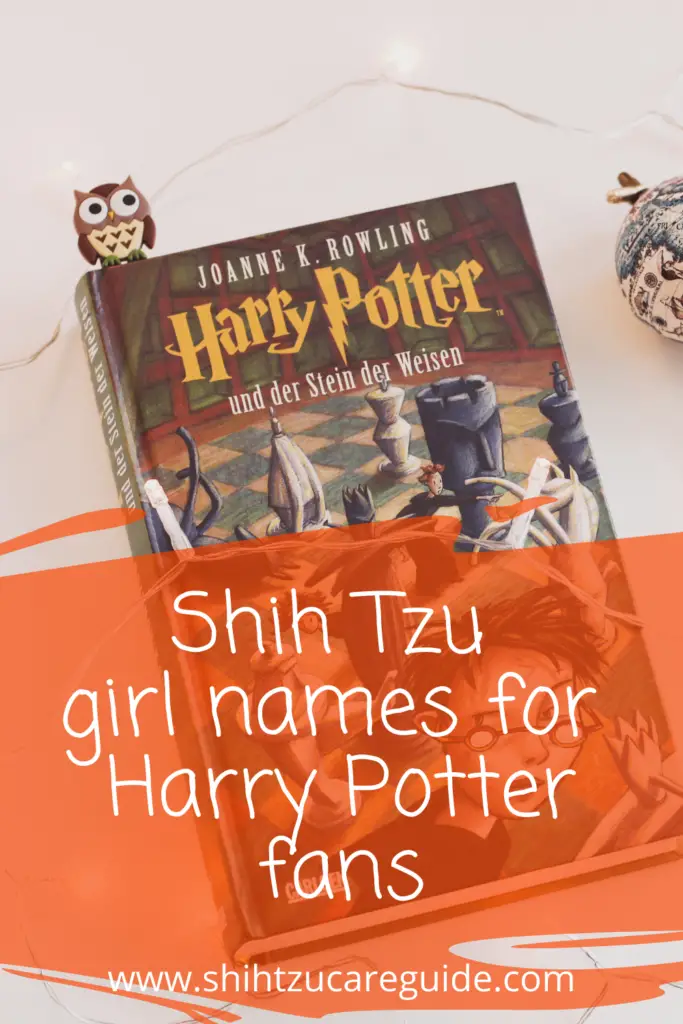 Conclusion
If you're still having trouble picking any Shih Tzu names, always remember that they can come from different sources of inspiration. Like how Hogwarts Houses are divided into Hufflepuff, Ravenclaw, Gryffindor, or Slytherin — it's essential to consider their traits before making a final decision regarding their names.