Getting pet name ideas from your favorite TV shows isn't a new concept, but using it never goes out of style. So, if you find yourself searching for GOT-related names for your new ball of sunshine, you're in the right place! Let's take a look at some brilliant dog Shih Tzu names for Game of Thrones fans.  
Hello, everyone. Welcome back. If you're new here, welcome to Shih Tzu Care Guide, the ultimate beginner's guide to first-time Shih Tzu owners.
Game of Thrones-inspired dog Shih Tzu names
Arya
Due to her massive and dark character development that created multiple twists and turns in the fantasy series, Arya is definitely one of the most sought-after names in Game of Thrones. On top of that, this name is relatively short and easy to pronounce, making it incredibly fitting for a pet's name. 
Dany
Dany is the cute nickname given to the Mother of Dragons, Daenerys Targaryen. If you're welcoming a little munchkin with a luscious long white or silver coat like Dany's hair, then this is one of the Shih Tzu names you should seriously consider. Also, imagine calling your dog every mealtime using this name. Isn't it exhilarating? 
Drogon
Rebellious but loyal, this is the perfect description for Danerys' eldest dragon named by her late-husband Khal Drogo. The same predicament can be said for Shih Tzu breeds because they are widely known for being slightly naughty but extremely loving companions towards humans. 
Ghost
Among the Game of Thrones-related names listed in this post, Ghost is a name given to a dire wolf raised by Jon Snow. In the show, it showed undying loyalty towards its master and fought alongside him. Similar to that, Shih Tzu breeds are highly social dogs that thrive on making their owners happy. 
Hodor
If you're a genuine part of the realm, then you wouldn't forget the character that made us shed tears unexpectedly, and that's none other than Hodor. Dogs tend to have various personalities, but if you happen to come across a pup with a gentle and calm temperament, this may be the perfect name for it. 
Khaleesi
Another name under the long list of Danaerys Targaryen's titles is Khaleesi. This unique-sounding name is actually a royal title solely invented by George R. R. Martin for the book with the literal meaning "Queen" in Dothraki language. Besides its uniqueness, you could say that it's quite a likable name suited for confident and strong-willed dogs like Shih Tzu breeds.
Sansa
Here comes one suggestion we just can't leave out, the Queen in the North, Sansa! We can all agree that Sansa is the sassiest among the Stark children. Thus, it's no surprise we decided to include this name on the list. Sansa has a Sanskrit origin that means praise or charm, a perfect description for Shih Tzu dogs who just love to carve for human affection and attention.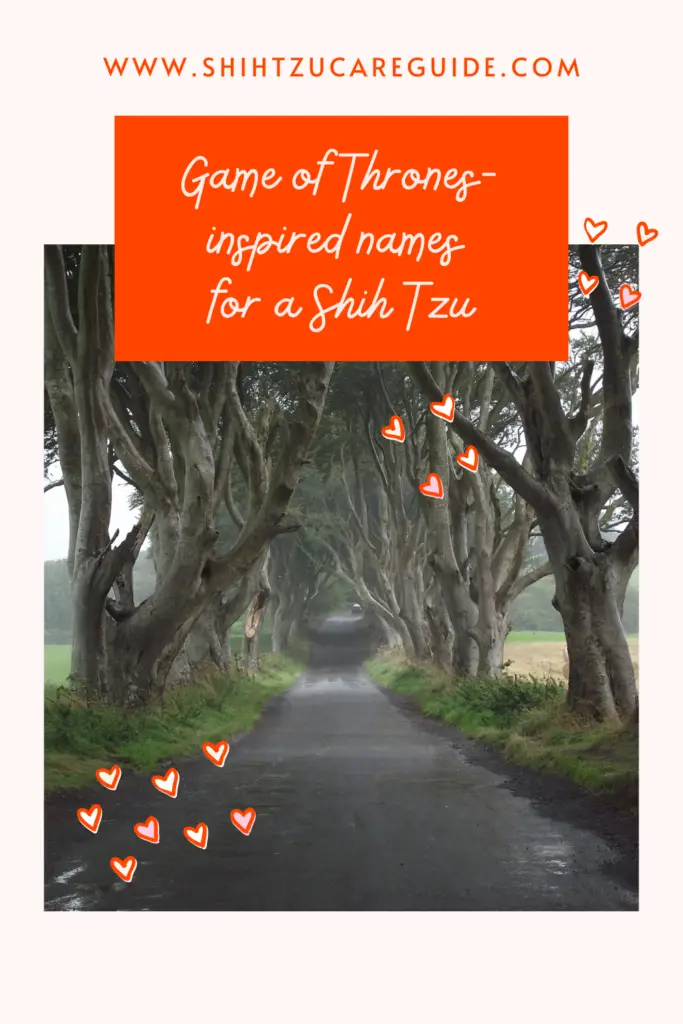 Conclusion
As a Game of Thrones fan, we understand your desire to select one of these Shih Tzu names for your furbaby. However, we recommend considering your pet's characteristics and personality before choosing your favorite character's name.
More than anything, this name will be the communication that connects you to your dog.