As superhero movie enthusiasts, we all know that Justice League is full of powerful women. Thus, selecting Shih Tzu names after these characters is a no-brainer. In light of this, here are some Shih Tzu female names especially listed for a Justice League fan like you!
Hello, everyone. Welcome back. If you're new here, welcome to Shih Tzu Care Guide, the ultimate beginner's guide to first time Shih Tzu owners.
DC-inspired Shih Tzu female names
Wondie
A shortened pet name from Justice League's most powerful female hero, Wonderwoman! With the bravery to save humanity and accept her exile, this Amazon Princess has always been loved by DC fans. And because Diana seems more like a human name and Wonderwoman sounds a bit lengthy and unnatural, going for Wondie definitely hits home for your new ball of sunshine.
Canary
Canary, without a doubt, is one of the most elegant Shih Tzu female names to consider for your pet. Introduced as a powerful vigilante in the DC Universe, Black Canary is a confident crime-fighting hero and Green Arrow's love interest. If you're looking into training your pup in the future, giving them a unique name like Canary is a great idea that you won't regret.
Vixen
Next up on our girl power inspiration list is Vixen. Despite being a popular DC comics character, there are fewer than five people per year named Vixen from 1880 to 2019. Its apparent distinctiveness meant that your dog's name is less likely to be confused with anyone or anything. Isn't that amazing?
Katana
Although she's revealed to be part of the Suicide Squad, Katana is very much a member of the Justice League as featured on the show Arrow. This name is composed of easy-to-pronounce syllables that will surely evoke a sense of familiarity in you and your Shih Tzu.
Kara
Kara Zor-El, aka Supergirl, is the second most powerful Justice League female hero next to Wonderwoman. Besides being known as the cousin of Superman, Kara is a variant of the Latin name Cara, which means Beloved. So, if you're a fan of Supergirl and looking for an endearing name for your little pup, Kara might just be the perfect option to select. 
Zatanna
True to her name and magical abilities, Zatanna comes from Hebrew origin, which means Goddess of Protection or Beautiful Magic. As the female superhero primarily associated with Batman and considered the first lady of magic in the comic, naming your Shih Tzu after her would be the ultimate tribute to DC's unsung heroes. 
Teri
In Justice League 3000, Teri Magnus is the female version of The Flash in the comic centered during the 31st century. This simple two-syllable name leaves a strong impression suited for Shih Tzu dogs with free-spirited personalities.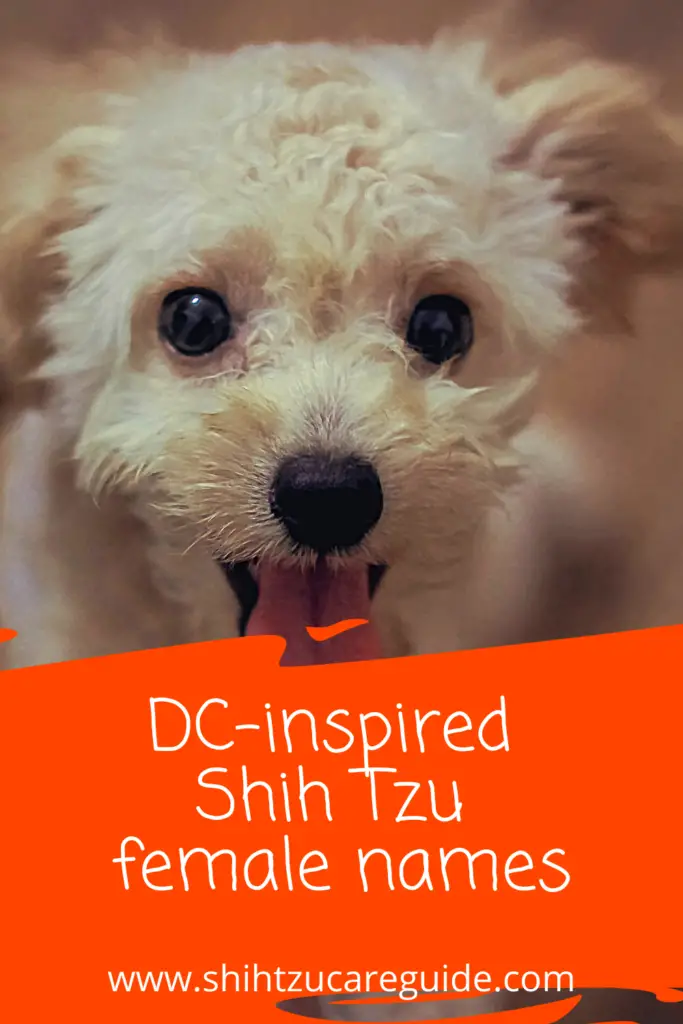 Conclusion
Giving your pets Shih Tzu names inspired by DC's female superheroes is an excellent way to celebrate your admiration for girl power characterizations in mainstream movies. However, even if you're the biggest Justice League fan, always keep in mind that your preference isn't the only thing you need to watch out for.
It's always best to go through the pet naming process while considering their personalities and physical attributes.